Here's an oldie but goodie…our most popular valentine ever…pinned hundreds of thousands of times! Wow!! Yep…you read that right! 🙂 These were created using pillow boxes a little satin ribbon, a 1.5 inch circle punch, a 2 inch scallop punch and some goldfish crackers. you know, a little salty to cut through all the sweets these little ones will be getting. 🙂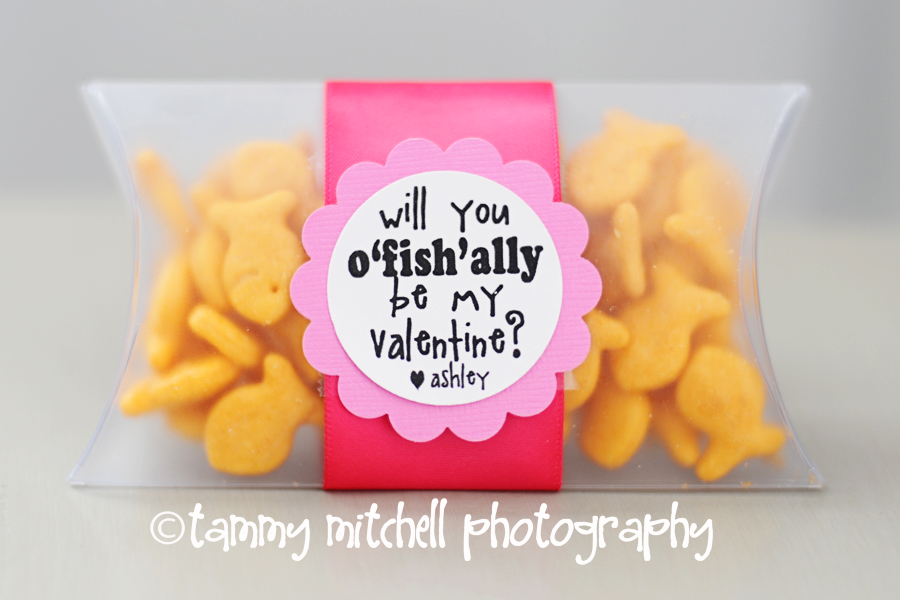 I simply cut the ribbon to size, wrapped it around the box and taped it where it would be hidden by the tag, then I just taped the tags on to the ribbon. Simple and fun!
I love love love the pink and orange combo.  In order to "boy" these up it would be really cute with a blue ribbon and tag too.  Blue and orange is always so striking!
Hope you are having fun creating all these handmade valentines!
Download the free tags for these valentines here:
Be sure to check out our other free printables like our:
What Does the Fox Say Valentines
Bugs and Kisses for Halloween
Hugs and Kisses for Valentines
other free printables for teachers and other holidays…
have a great day!
-tammy
Title:
Free Printable Valentine: Will You 'ofishally" be my valentine?
Mentions:
candy free valentine, cute DIY valentines, cute non candy valentines, DIY, fish valentine ofishally valentine, free printable valentine cards, free printable valentines, free valentines, FUN DIY craft party ideas, goldfish valentine, goldfish valentine printable, kids valentine ideas, printable valentine, valentine party, valentine's day
Last Updated:
January 5, 2016