It's that time again! I LOVE Memorial Day, Flag Day, the 4th of July…EVERYTHING patriotic! I am always looking for patriotic party ideas.  Red White and Blue is just such a stellar color combination, it just makes any party supplies and party food look fun.  Here's a SUPER easy and budget friendly DIY treat that looks like a million bucks. 🙂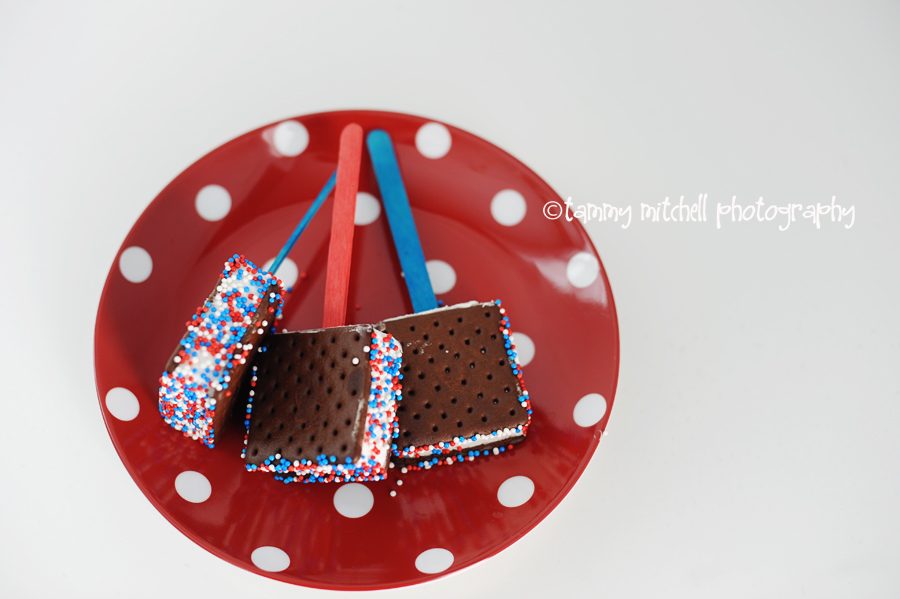 They are SUPER easy to make!! I found the colored popsicle sticks at my local craft store, the red, white and blue nonpareils too. Swing by your local grocery store and pick up some mini ice cream sandwiches and you're ready!!  Unwrap your sandwiches and let the ice cream soften for just a minute.  Once it has softened a tad, push a stick up through the ice cream.  Now that you have your ice cream sandwich on a nice little handle, dip in the sprinkles, making sure to get the three exposed sides of the ice cream and you're ready to go!  Place the finished sandwiches on a tray in the freezer and let them harden again before serving.
Love this idea?  Let me know by sharing it on social media!  You can find me on Facebook  and Instagram if you like daily entertaining, DIY, travel and design inspiration.  And don't forget to sign up for our newsletter!
Check out more of our patriotic party ideas, Party DIY and Party food ideas.
Enjoy!
Tammy