What is it about fall that just makes treats and sweets and comfort food a necessity? When it's summer I feel like I just want to eat fresh fruit and salads and all kinds of light and healthy things…then September hits. lol! A few weeks ago some friends visited and they brought us a box of dessert bars from a new local dessert place in town and there was an oooey, gooey sweet and crunchy bar in the box that instantly brought back memories of a treat that I loved years ago and haven't even thought about for ages. Until now. Now I'm craving it all the time. I love Chex Mixes of all kinds, but this Chex Mix with Golden Grahams and coconut is literally irresistible.
Even better that being completely irresistible, it is super easy to make and only needs a handful of ingredients. I always associate this delicious Chex Mix with the holidays. In part, because it's often something that you see at large gatherings and it makes a great treat for neighbors and friends to hand out for seasonal gifts.
The recipe for this Chex Mix with Golden Grahams and coconut makes a HUGE batch. You'll need a BIG bowl to stir it all together and you'll want two cookie sheets prepped with wax paper or cooking spray to pour the completed mix onto to let it cool.
This year we'll be hosting some Halloween fun and I plan to make this for all the kids that will be coming over. Since it's fast, easy and feeds a crowd, it will be perfect!
INGREDIENTS FOR COCONUT CHEX MIX
The name pretty much says it all. 😉 There are many more ingredients. This is basically a mix of a few delicious crunchy ingredients covered in a buttery sticky caramel sauce. So good. Here are the basics for this easy recipe:
Rice Chex – You can use corn as well, but I prefer rice.
Golden Grahams – I love the added crunch and flavor these add to the mix
Shredded Coconut – Don't forget this! It's a must have.
Sliced Almonds – another yummy crunchy element
Butter – You'll want salted butter for this recipe
Sugar – for the caramel
Vanilla – I only use pure vanilla extract for the best flavor
Corn Syrup – makes the caramel smooth and creamy
SUBSTITUTIONS YOU CAN ADD TO COCONUT ALMOND CHEX MIX
If you know me, you know I tend to cook like a grandma…not really following recipes and just kind of adding a pinch of this or a tablespoon of that. It drives Ash nuts when she wants to make a recipe of mine and asks me what to do. 😉 So, as you can imagine, I'm all about substitutions and mixing things up a bit to suit tastes and change colors and textures. This recipe is perfect to test out a few extras.
How about adding some color with sprinkles or candies like M&Ms to make your mix holiday specific? This is the trick I'll be using to make this Chex Mix the perfect Halloween treat.
Don't like sliced almonds? Throw in some cashews or peanuts…or whole almonds if you want.
Pretzels would be a fun addition to bring in a little salty to the sweet.
Dried fruit like cranberries or blueberries would add a little chewy tang.
HOW TO MAKE CHEX MIX WITH GOLDEN GRAHAMS AND COCONUT
-Mix the dry ingredients together in a LARGE bowl. Make sure to spray the bowl with some cooking spray first. It will make it much easier mix with the caramel syrup later.
-Make the buttery golden caramel syrup. In a pan melt together the butter, sugar, vanilla and corn syrup and mix together for a few minutes over medium heat until mix becomes bubbly and and thickens a little bit (about 3 minutes of boiling time). You'll need to stir it often and watch the heat to make sure it doesn't burn.
-Toss the dry ingredients and the caramel sauce together and stir with a rubber spatula or wooden spoon until the mix is evenly coated with caramel.
-Add sprinkles to bring in color and make it festive (I added Halloween sprinkles to mine)
-Pour your mix out onto your prepared pans and let it cool
HOW TO STORE CHEX MIX WITH GOLDEN GRAHAMS AND COCONUT
This delicious mix is easy to store in any air-tight container. Tupperware or zippered bags work great! It will stay yummy for a few days so it's easy to make a day or two ahead of your event.
MAKE COCONUT ALMOND CHEX MIX BARS
For a little different twist on this Coconut Almond Chex Mix, you can form them into bars to make them easy to serve. Use an 8×8 brownie pan with some taller sides and cover it in parchment/wax paper. (This will make the bars easier to remove and cut once they're cool.) Pour your warm Chex mix into the pan and press to form. Let your bars cool for an hour or so, and then remove them from the pan and cut into 2″ 0r 3″ bars.
I decorated my bars with some Halloween sprinkles, candy corn and edible decorations I found in the baking aisle.
Delicious Chex Mix with Golden Grahams and Coconut
Ingredients
6 cups rice chex
6 cups golden grahams
2 cups shredded coconut
1 cup sliced almonds
1 cup granulated sugar
1 1/4 cup light corn syrup
1 cup salted butter
1 teaspoon vanilla extract
Instructions
Mix together the rice chex, golden grahams, shredded coconut, and sliced almonds in a big bowl.

In a medium saucepan melt together the butter, sugar, and corn syrup and vanilla over medium heat.

Bring mixture to a boil. Once boiling, let it cook for 3 minutes stirring constantly.

Pour the mixture over your dry ingredients and stir everything together until everything is evenly coated.

Pour coated chex mix onto waxed/parchment paper and allow to set till cool.

Enjoy!
I hope you enjoy this delicious Chex Mix with Golden Grahams and coconut as much as we do! It is so addicting, so be prepared to give some away or eat it all! 😉
Need some more fun and delicious food ideas? Here are some more of my favorite, easy ideas:
Easy Green Halloween Party Punch: Monster Juice
Delicious Dark Chocolate Halloween Bark Recipe
Adorable DIY Halloween Mummy Pizzas for Kids
How to Make a Strawberry Topiary
Amazing Snickerdoodle Ice Cream Sandwiches
Check out my entire Recipe Gallery here.
Be sure to check out all the awesome blogs sharing the best Halloween party recipes today. There are so many fun things to make!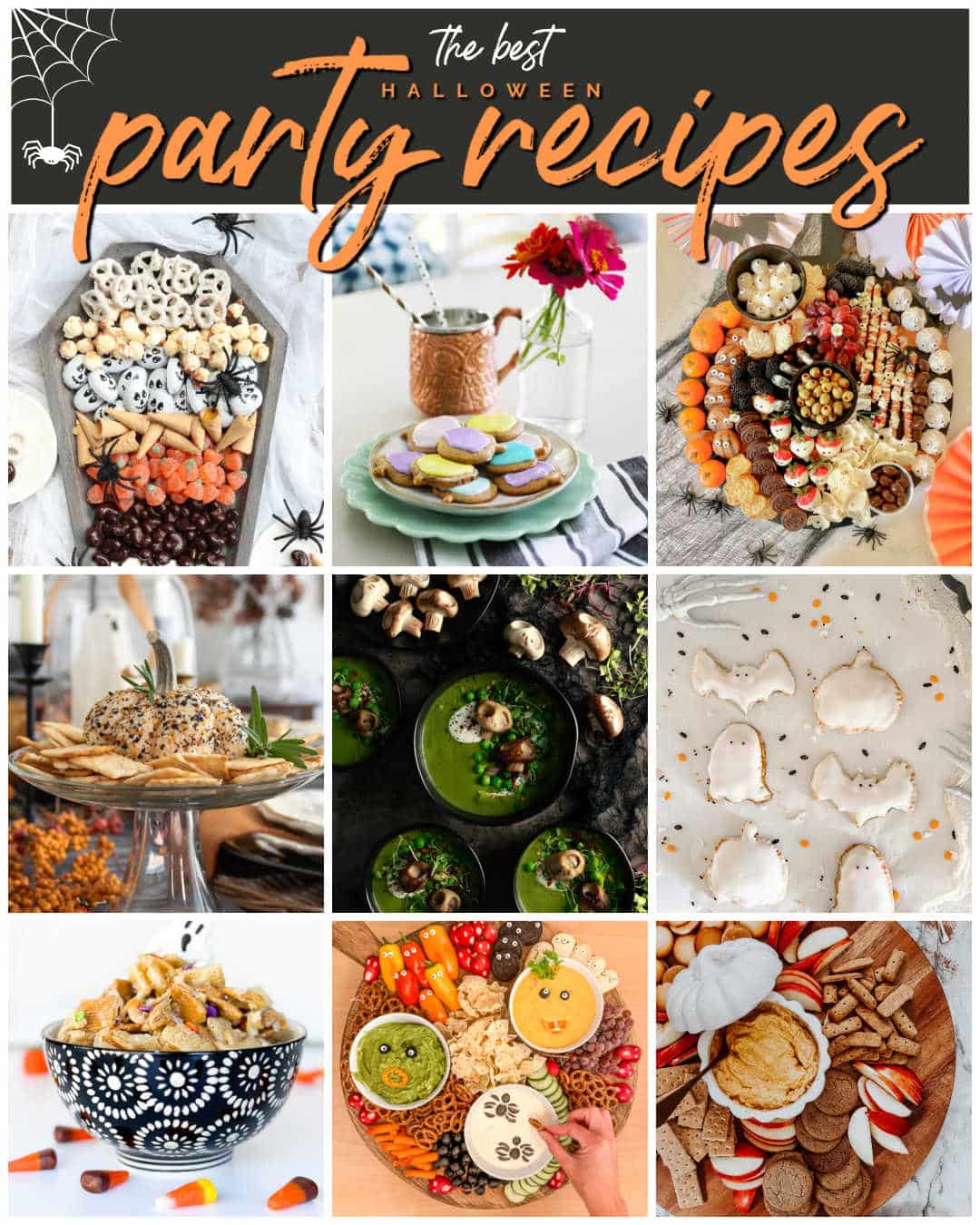 My Sweet Savannah | charBOOterie board
The Handmade Home | Frosted Gingersnap Cookies
Tatertots and Jello | Trader Joe's Halloween Snack Board
Midwest Life and Style | Everything Bagel Pumpkin Shaped Cheese Ball
Paint Me Pink | Witch's Brew (Green Pea Soup)
Lolly Jane | Halloween Hand Pies
Pink Peppermint Design | Sweet & Spooky Coconut Almond Chex Mix
Hallstrom Home | Halloween Spooky Snack Board
This is Our Bliss | Simple 4 Ingredient Pumpkin Fluff Dip
Thanks for visiting the blog! Come and join me on social to follow along with all of my Design, Travel, DIY, Shopping Deals and other posts. You can find me here:
Instagram | Pinterest | Facebook | Like to Know It
Don't forget to sign up for our newsletter too so you can get access to our amazing free printables library! Get on the list here and get access to all kinds of fun delivered directly to your inbox.
Happy baking!
Tammy