I have been saving the best for last! I think the hit of the day was the homemade "sandcastle" that I constructed the night before the party. I will warn you…it was messy to make, but SO worth it!!!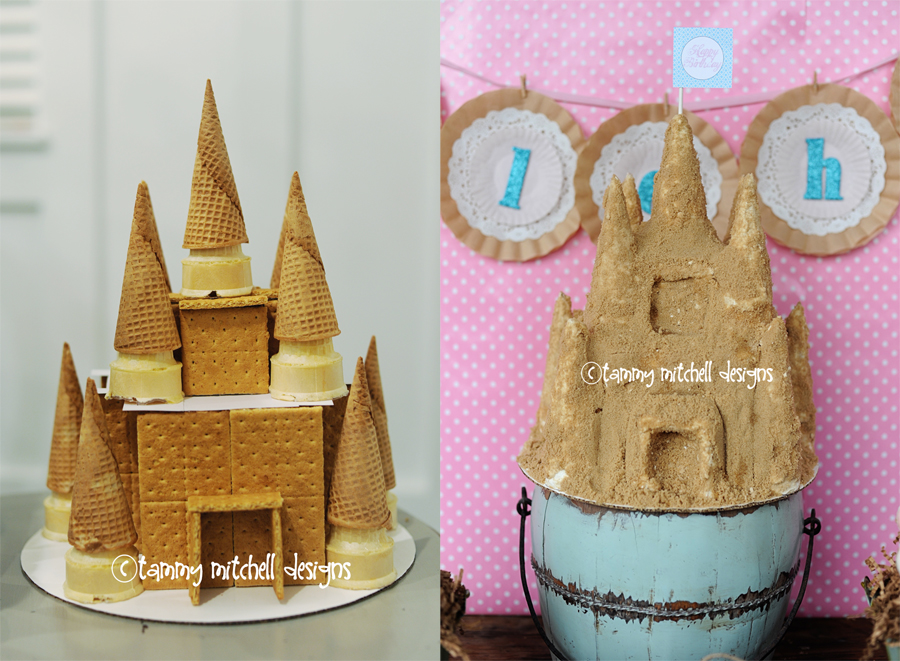 I had the idea for an acticity for the party to make each girl her very own sandcastle gingerbread house that they could cover in icing and brown sugar to look like sand, and then decorate with candy. Once I had that idea, I got the idea to make a bigger one as the centerpiece of the food table. I started with a cardboard cake round, and then built my castle out of graham crackers, cake ice cream cones, and sugar cones….just like I was making a gingerbread house, but here's the secret…you HOT GLUE the pieces together. It is SO much faster than using icing, and helps everything stay together SO much better! Once I had the look that I wanted, I made up some royal icing and coated the castle in it section by section adding brown sugar right after the icing. You have to work in sections, otherwise the icing will harden before you get to the sugar. I carved out little parts on the castle using a plastic butter knife, just like I would have with real sand, and molded it just like I wanted. By the time it sat over night, it was very hard and ready to use.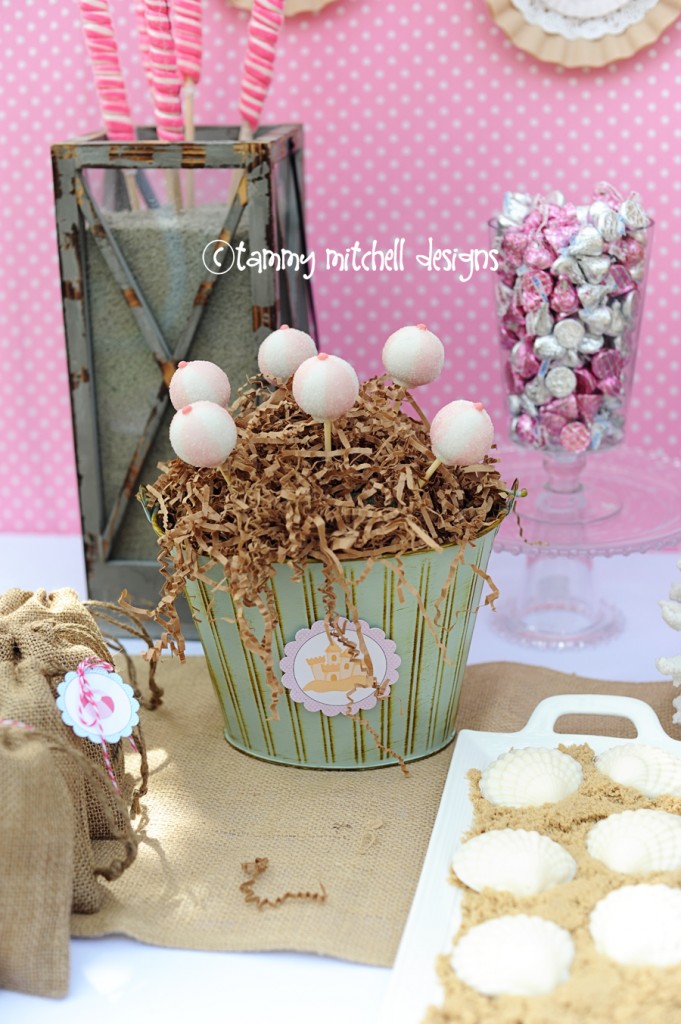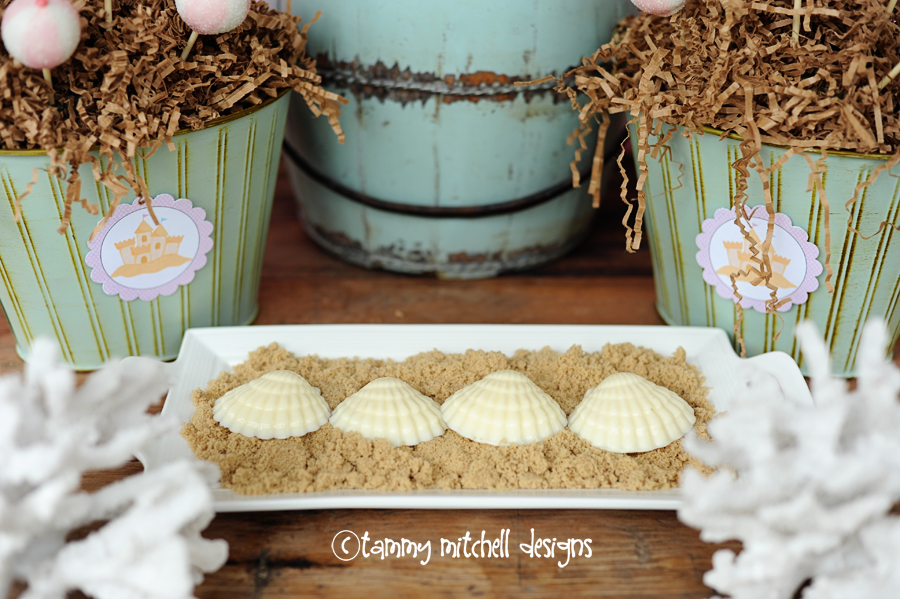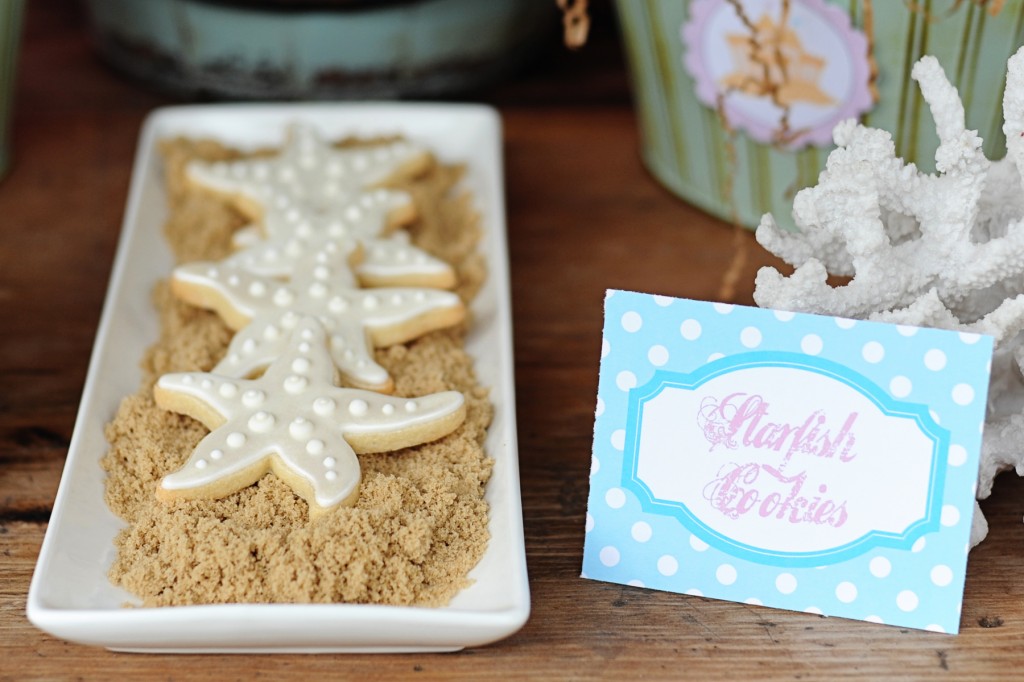 When it comes to planning foor for parties I'm a little obsessed with color coordinating everything. If it doesn't look right, I'll re-wrap it and package it so it does. 🙂 Our menu consisted of Beach Ball Cake pops from Sugar Parlour, which were FABULOUS! I also ordered simple ham and turkey footlong "sand"wiches from Subway, cut them in quarters on the diagonal, and wrapped them in mini kraft colored bags and tied them up with pink and white baker's twine. We had chips that I individually packaged in ziploc bags and then put into mini burlap drawstring bags for the look. The glittery starfish sugar cookies were the creations of The Pastry Tart Bakery…absolutely DIVINE…melt in your mouth sugary goodness. Assorted candy in the colors of the day and pink lemonade completed the menu.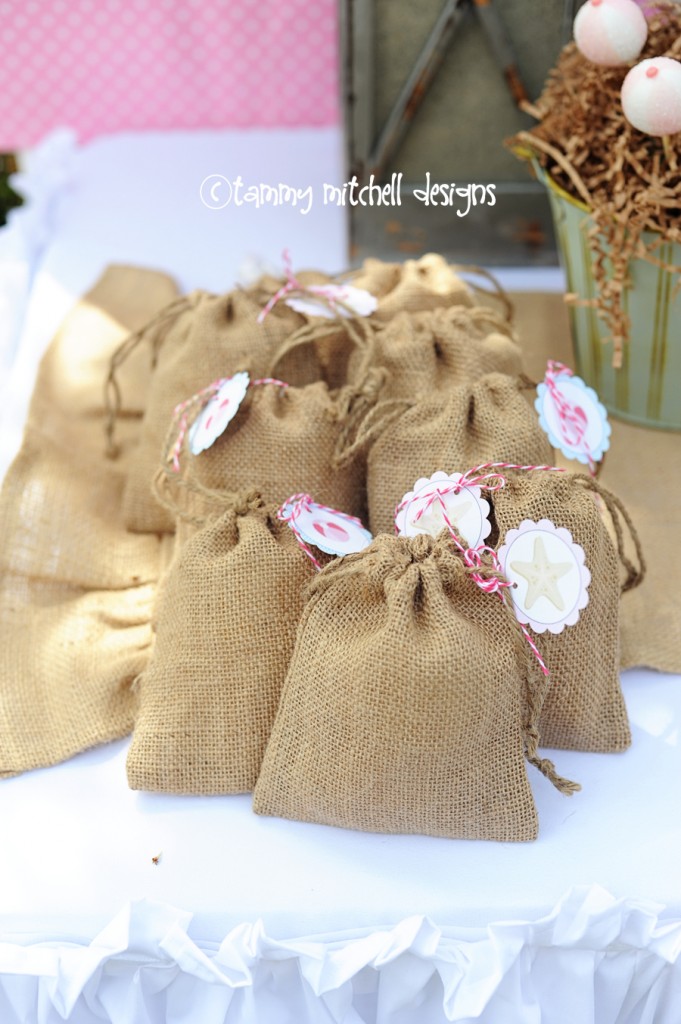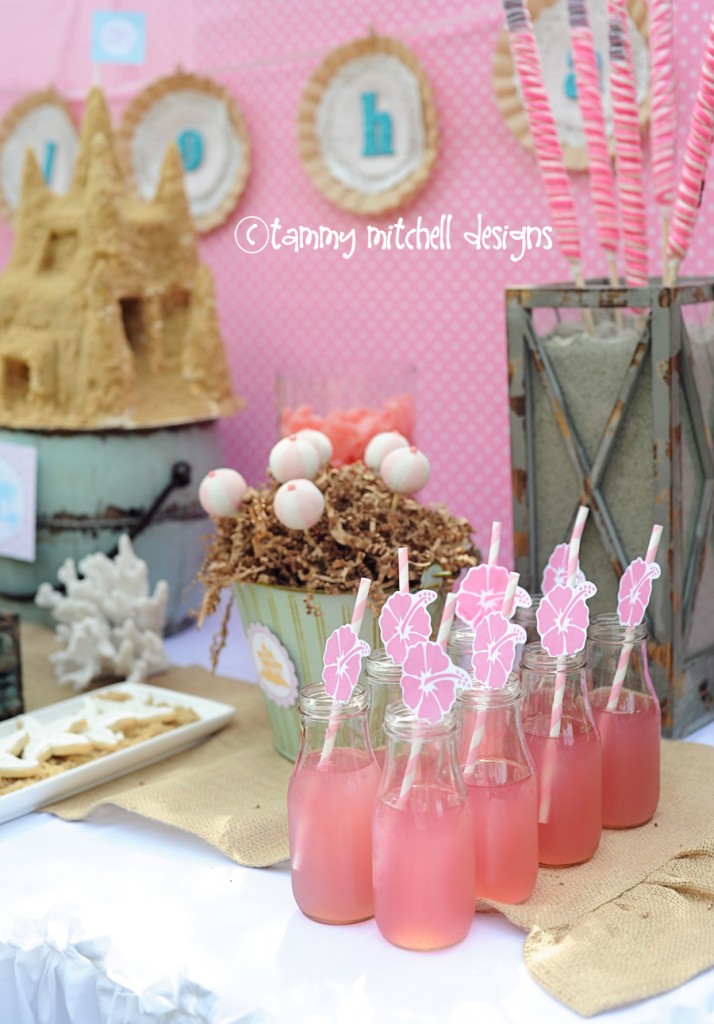 Games and activities…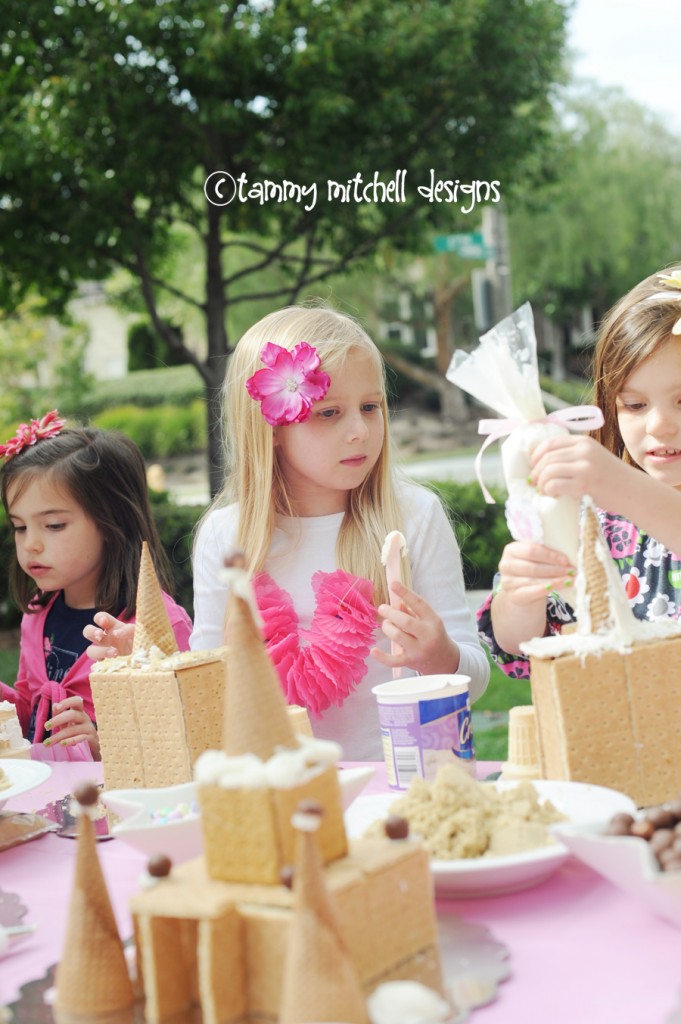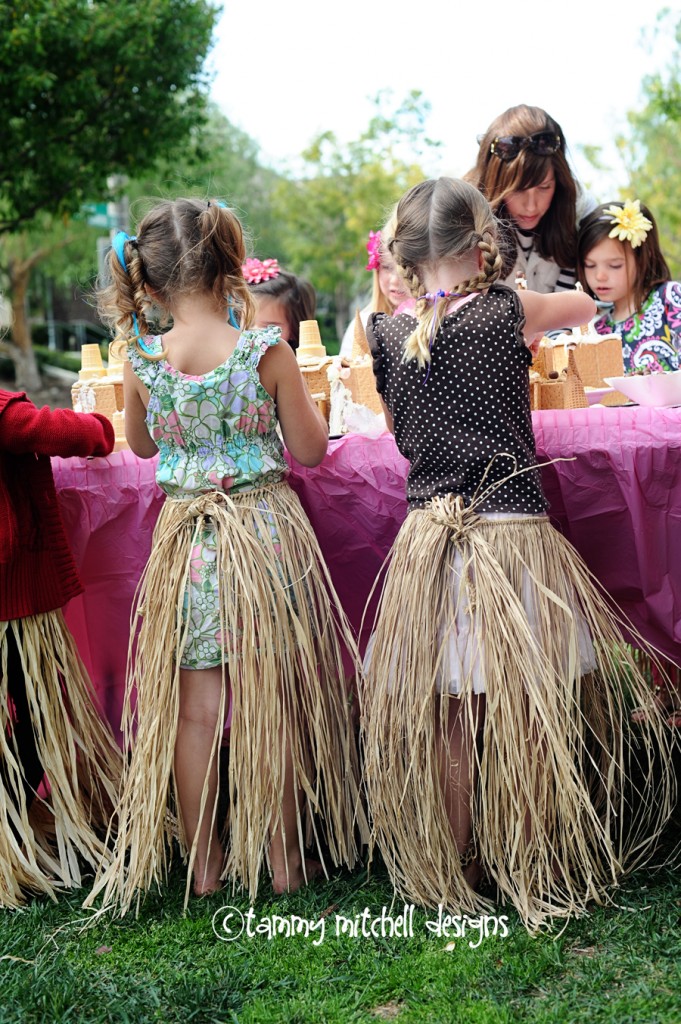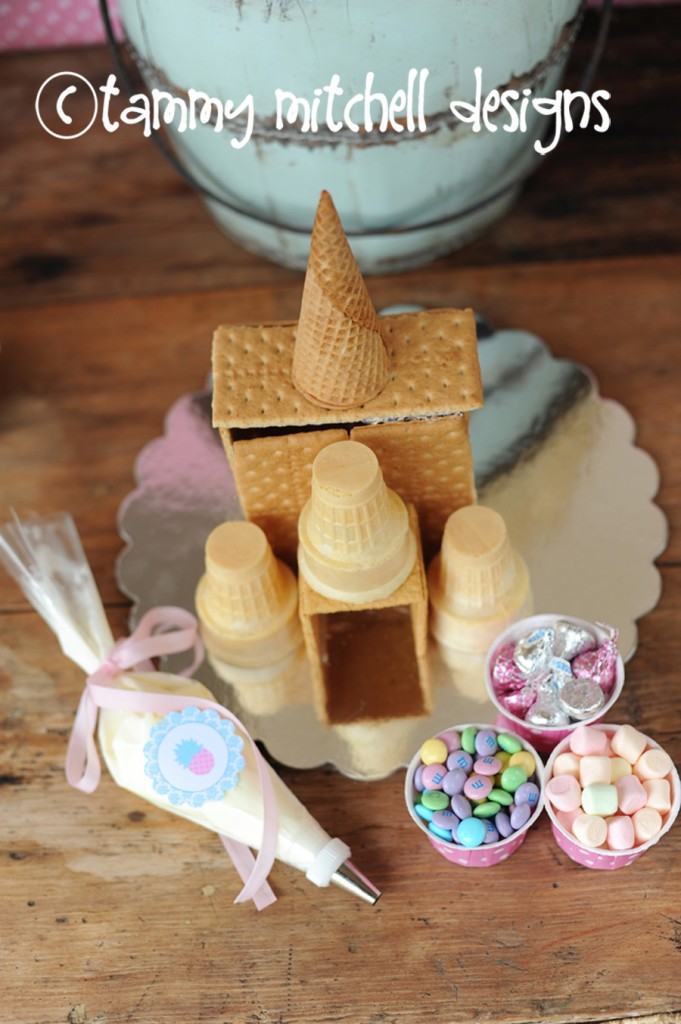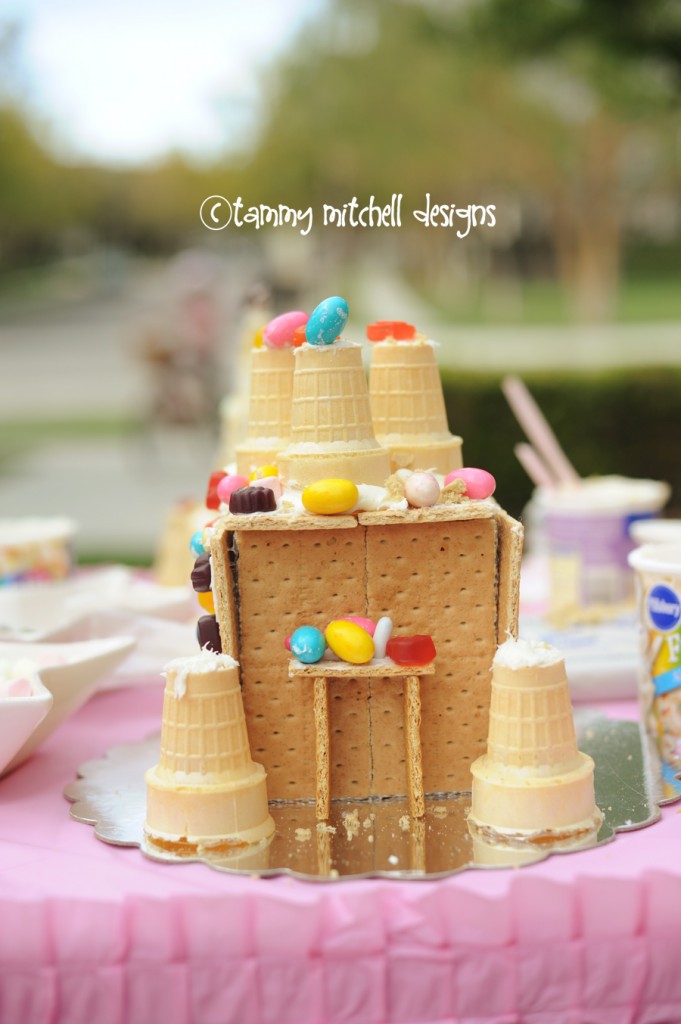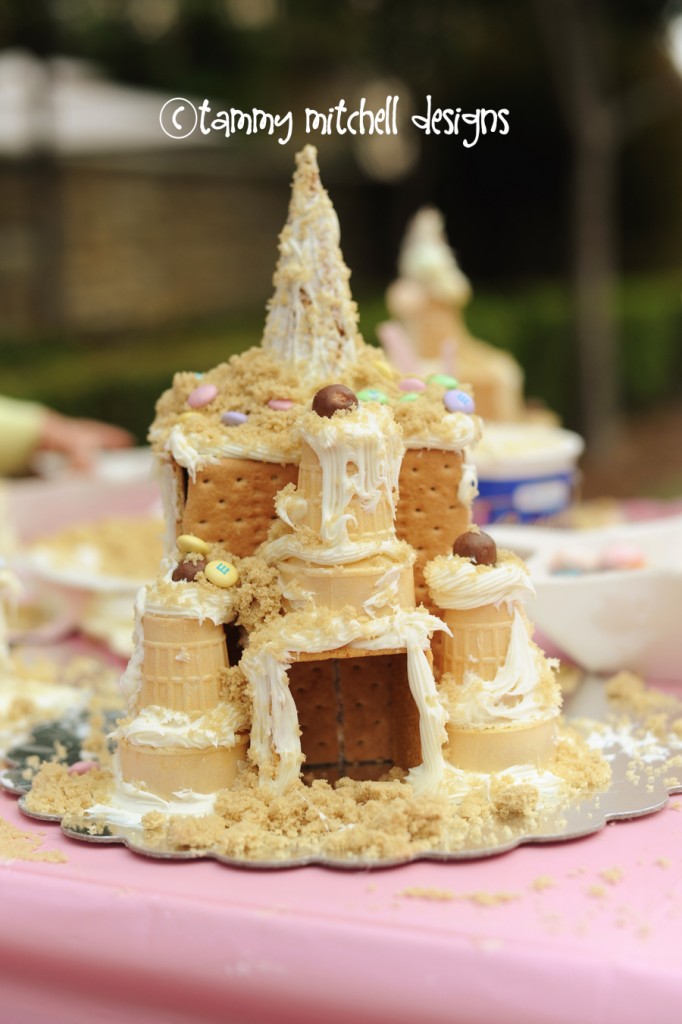 Like I said earlier, I made each girl their own sandcastle gingerbread house, so we spent a bunch of time decorating those. They were SO cute and it was fun to see how unique they all were. We also made leis…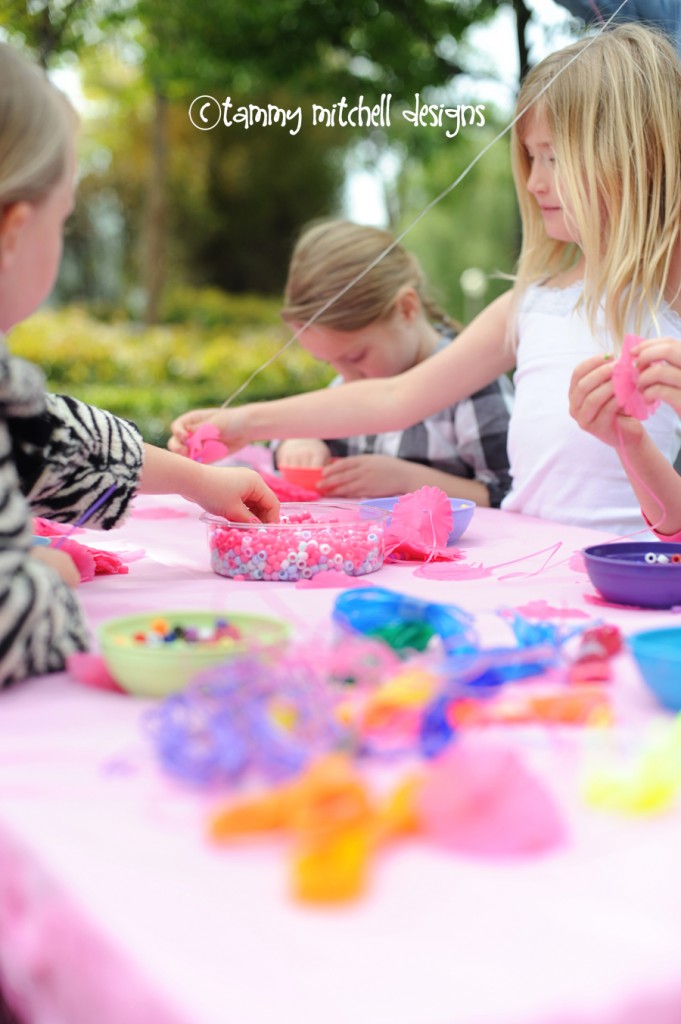 played limbo…(the stick is simply a piece of PVC pipe wrapped in pink ribbon…you KNOW it had to be pink!) 😉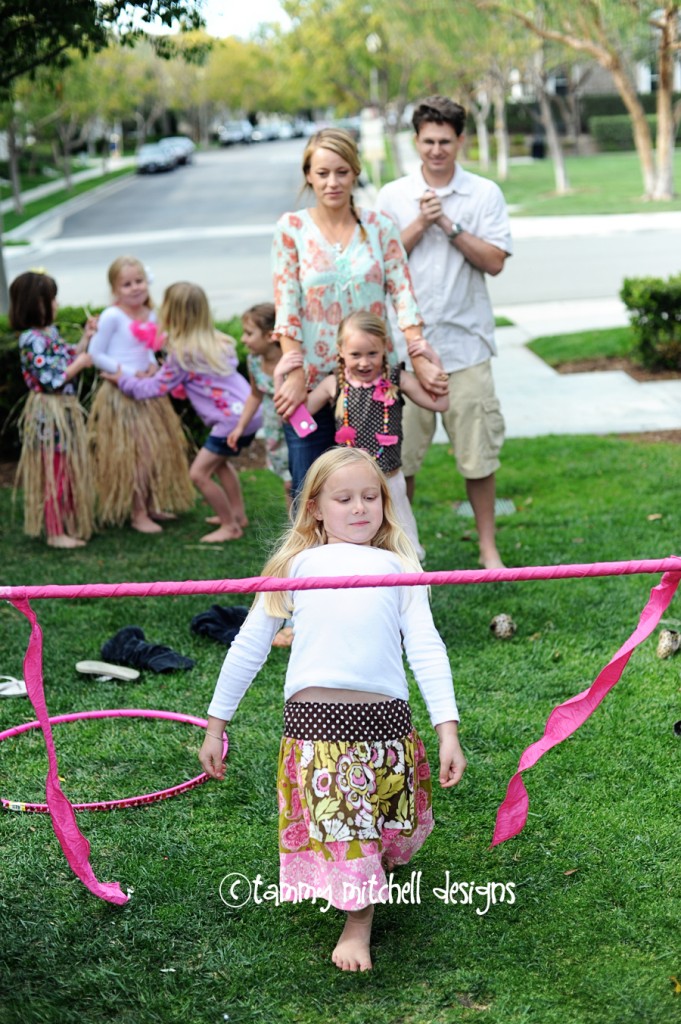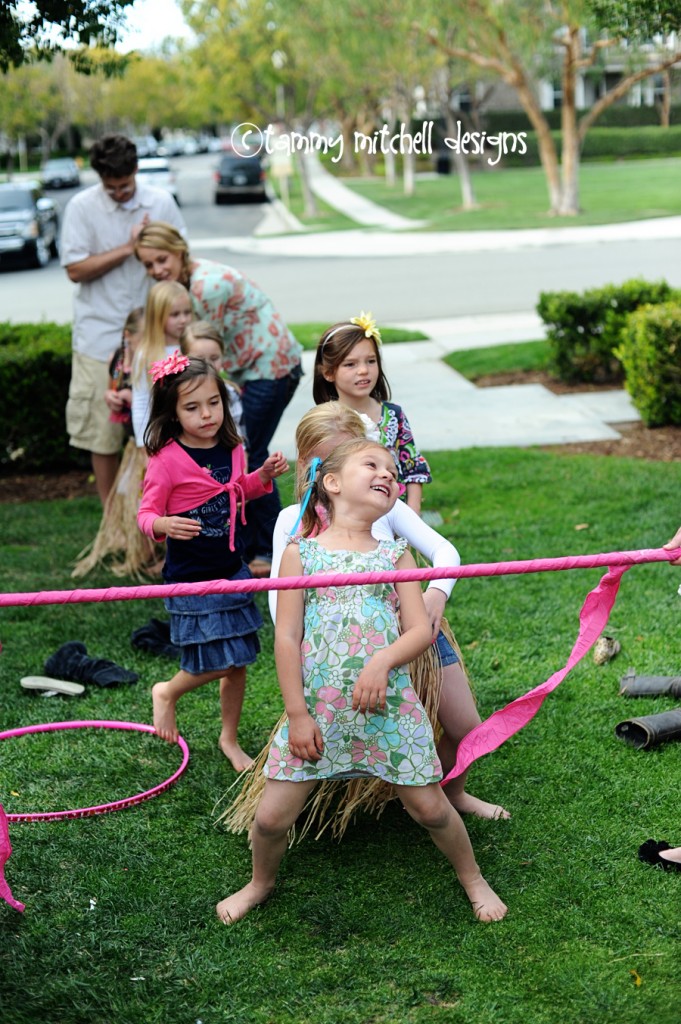 we also had a "hula" hoop contest, opened presents and had cake. The party that I had planned to last an hour and a half went on for almost 3 hours…especially once the adults started getting in on the limbo game! 😉
The cake was a simple two tier white cake that I had Albertsons make. I then spread brown sugar around the bottom of each tier to look like sand, and put pink sand dollars that I made out of candy melts (found the mold on amazon.com for about $5) around the edges to make it look fun.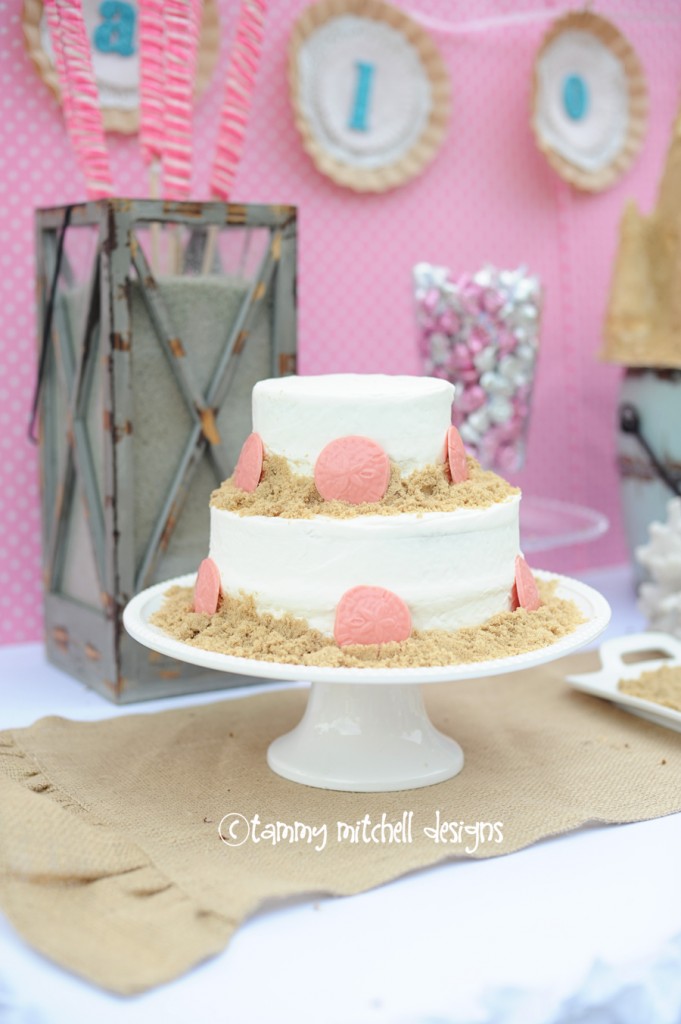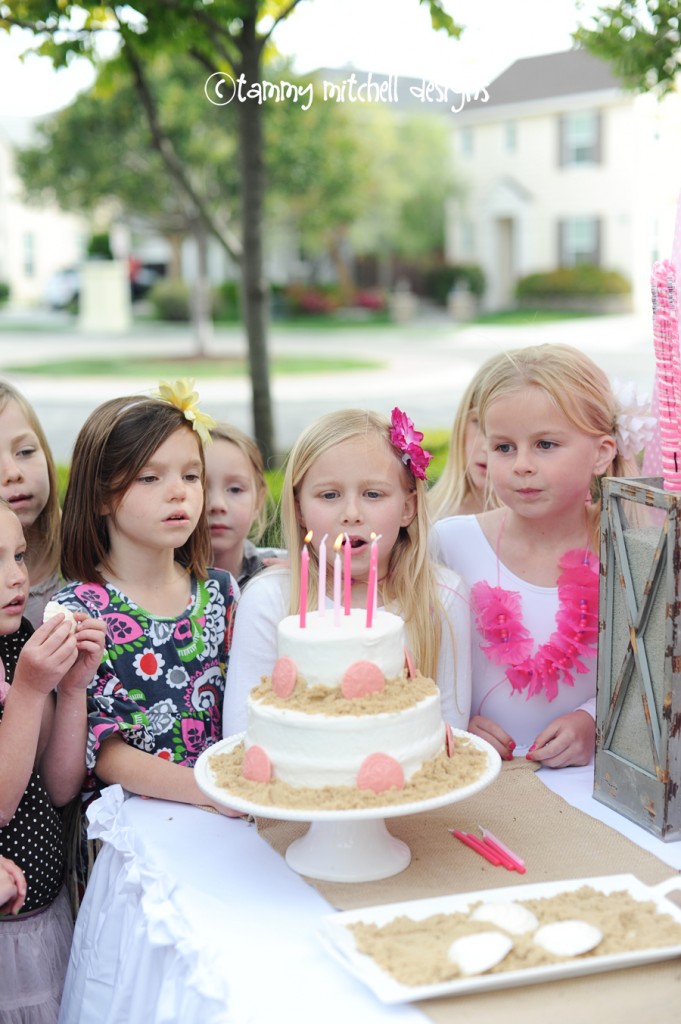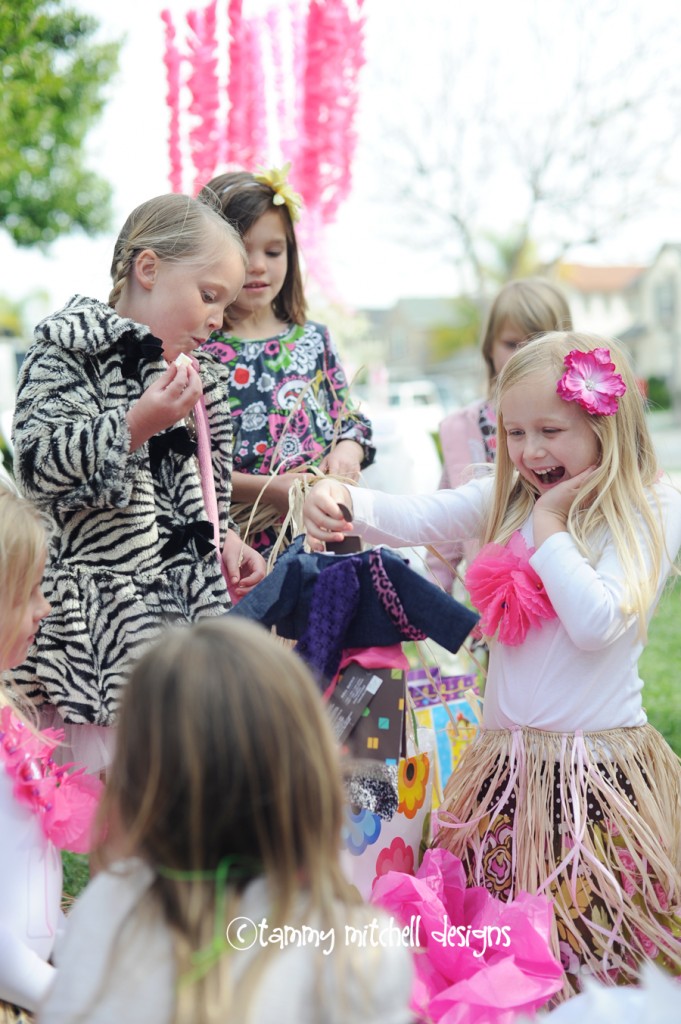 There were lots of other touches…handmade runners, handmade three tier ruffled white tablecloth, etc. but that should give you the basics so you can re-create your own! 🙂 If you have any questions don't hesitate to ask!! 🙂
Have a great day!
tammy