Welcome back to Beach Party Week!! 🙂
When it comes to decorating for a party, I am an equal opportunity shopper. 🙂 I look EVERYWHERE. The internet for sure, but also party city, big lots, stein mart, homegoods (of course), cost plus, pier one, marshalls, Tai Pan, Hobby Lobby, Kohl's, Michaels, JoAnns, Walmart, Target, antique malls…you get the idea…I am all over the place. I see a possible party everywhere I go! 🙂 Once I had the color scheme and theme in mind, I hit the ground running. I wanted to incorporate lots of different shades of pink, but I didn't want it to be LOUD. I wanted the pinks to blend and have a softer feel. I like to keep my parties smaller, about 8 girls so that I can incorporate nicer elements, like handmade treats and real dishes, without breaking the bank.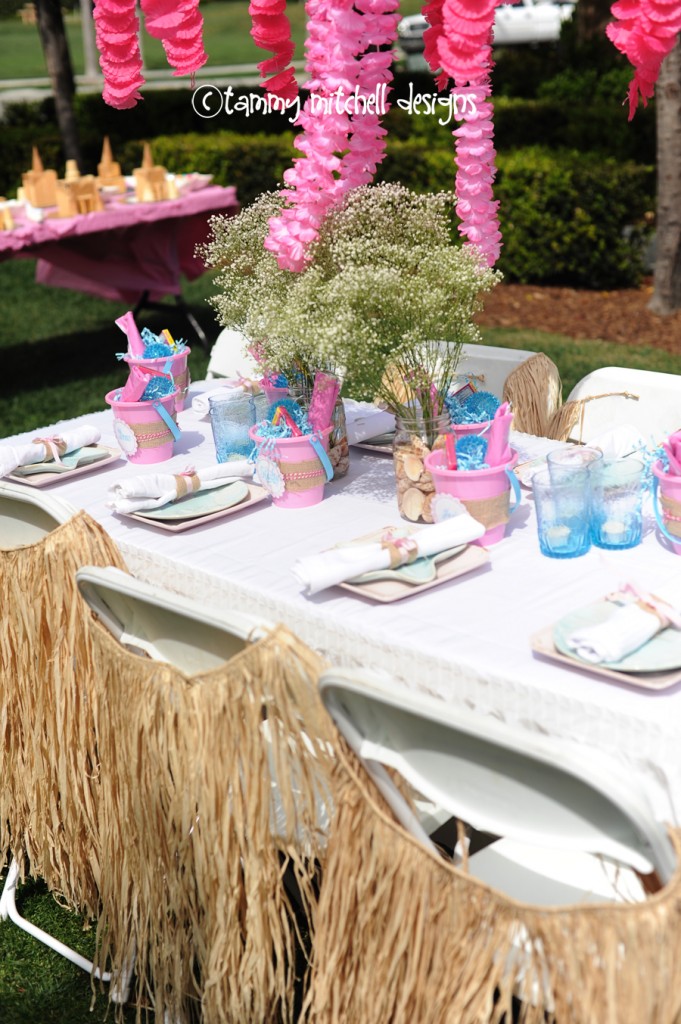 I covered the girl's table in a white linen tablecloth (you can order one on Amazon for about $8…almost the same price as a plastic one, but it looks so much nicer and you can re-use it!) I found light pink dishes as Tai Pan on clearance for $2 a piece, added a blue starfish plate that I found at homegoods (4 for 5.99) and then finished it off with a cloth napkin wrapped with a burlap ring and printable from my shop.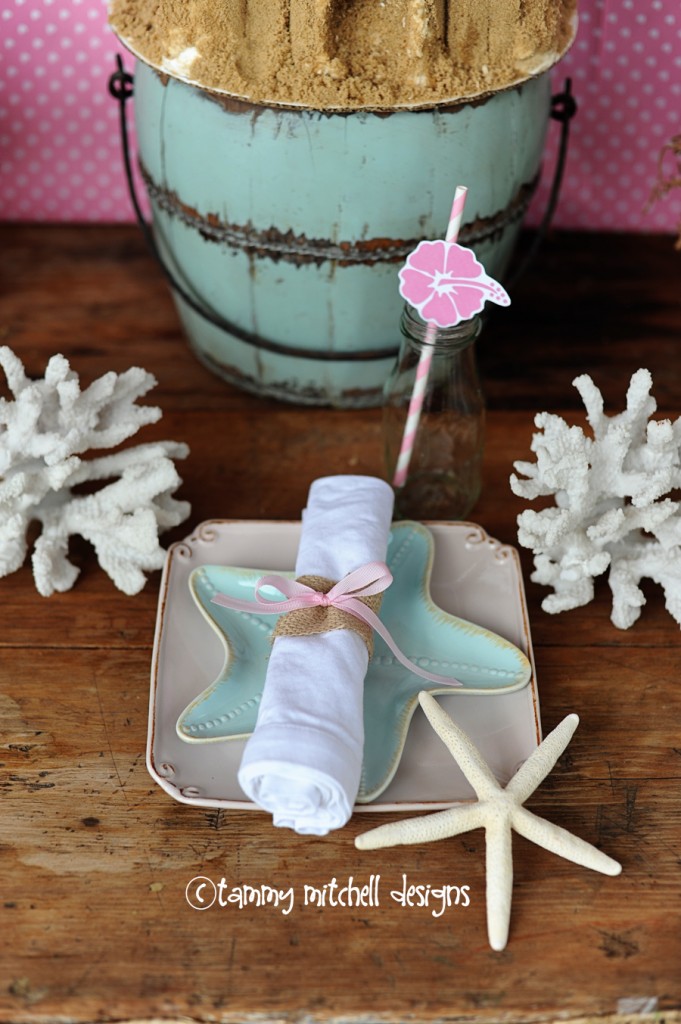 I really wanted the chairs to look more fun than just the white plastic that they were…so I ordered grass skirts for each of the girls online and tied them around the backs of the chairs. Each girl's place at the table was set with a pink and blue mini plastic pail with a name card on it. The beach pail had a few beachy pink and blue trinkets in it and did double duty as not only the place marker, but as the favor for each child too.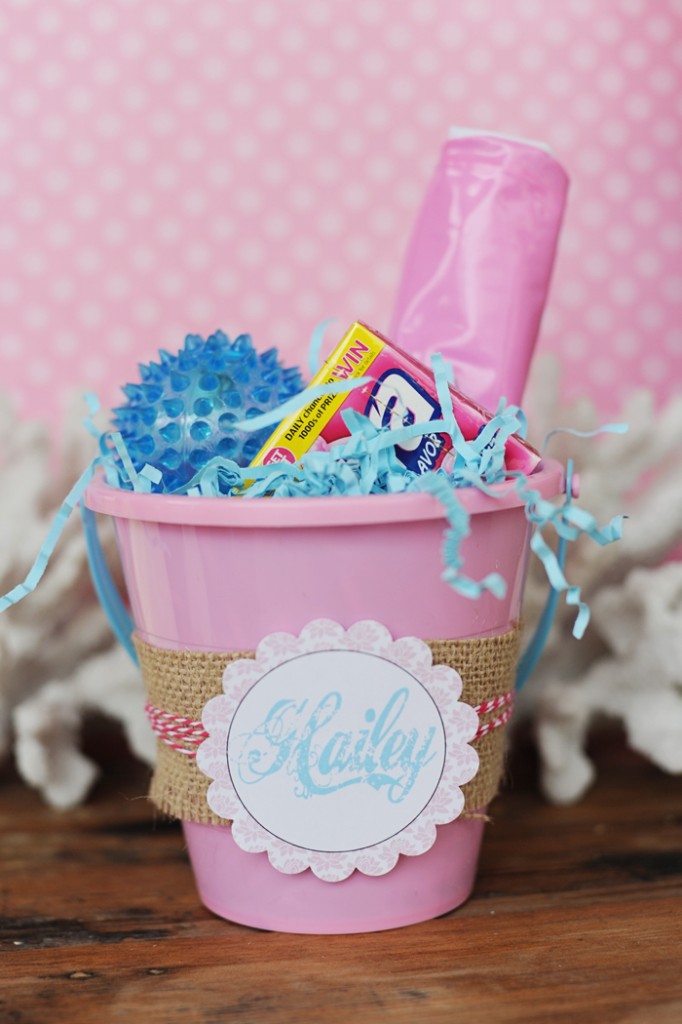 The centerpieces were simple quart sized mason jars, filled with shells and inexpensive bunches of baby's breath. They took about two seconds to make and looked really pretty on the table. I also added a few blue glasses that I found at homegoods for a couple dollars a piece. I grouped them in threes and put tea lights in them to add a little more color on the table.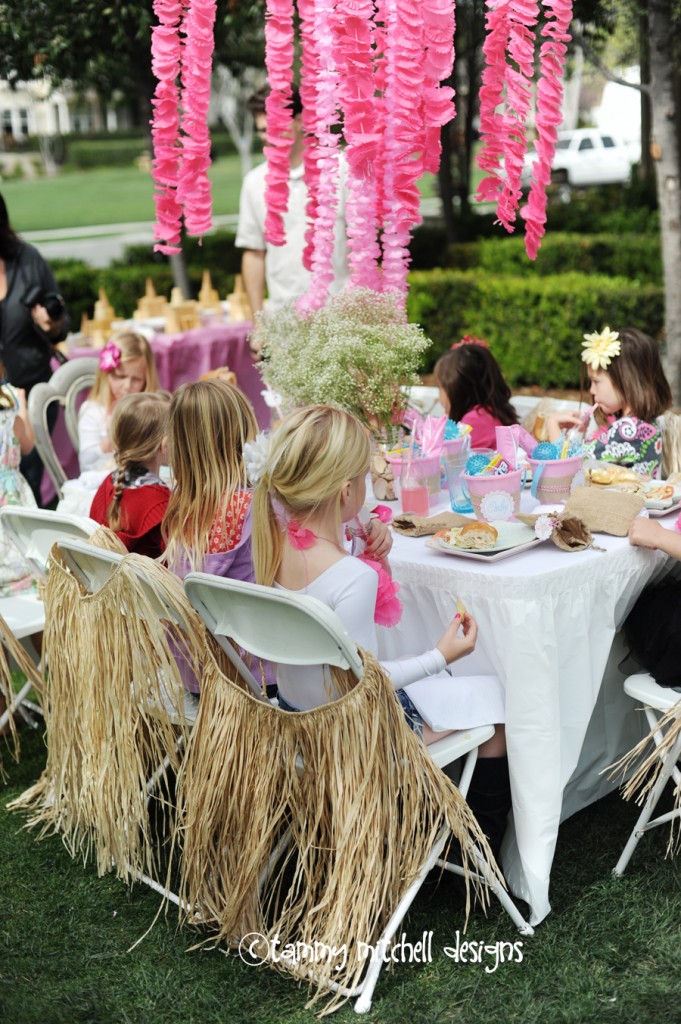 When it comes to parties I am neurotic about having something haging above the party space. I love creating a ceiling of some sort either with lights, lanterns, balloons, etc. It creates more of a sense of a "room" in outdoor spaces and looks SO much better in pictures. In the pocket park it is tricky to do this…so here's what I did and maybe you can do this at your next party in the park. At home depot you can find fairly heavy gauge wire. I get on a ladder and connect strings of the wire across the park going from tree to tree in straight lines, diagonal lines…all over the place to create something that I can use to hang things from. I do it up about 9 feet high so that it doesn't interfere with anyone walking around. Doing that enabled me to create a lei chandelier over the table which really added an element of fun at the party…If you want to create a chandelier in a space that already has a ceiling or something to hang the chandelier from like a pergola, you could create it on an embroidery hoop and use fishing line to hang it from your ceiling or pergola. You simply need to cut each of the leis to make it straight, tie off each of the ends (I put a bead at each end to make it so that flowers couldn't slip off of my knot) attach each strand of flowers to your hoop or wire, and hang. I made each of my strands slightly different lengths the ones in the middle were longer and the ones around the outside were shorter and added two different shades of pink for some added depth and dimension.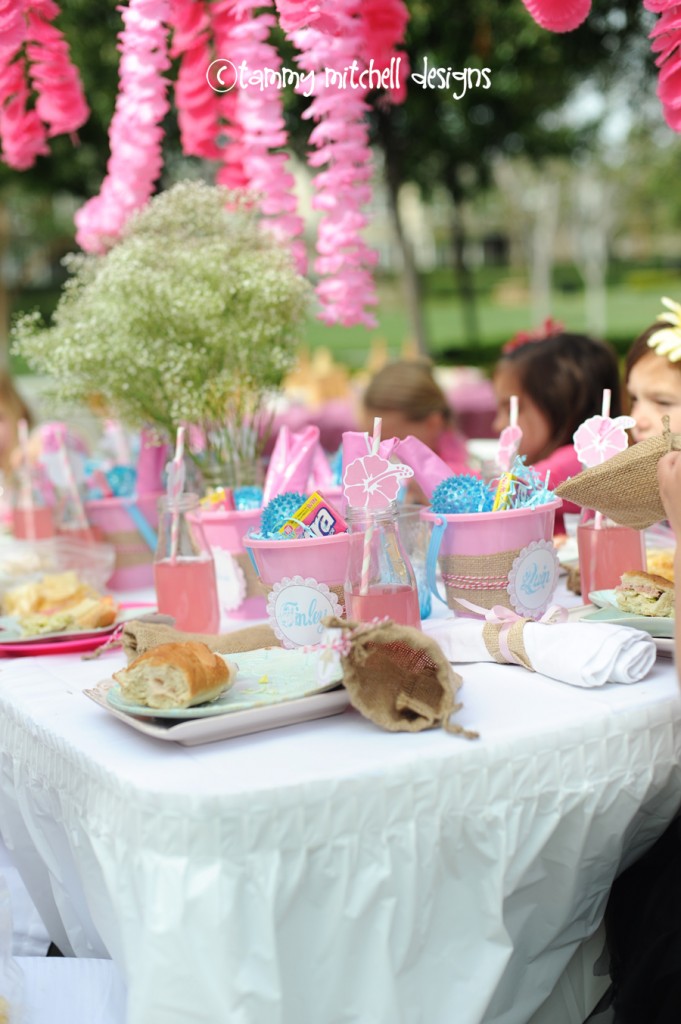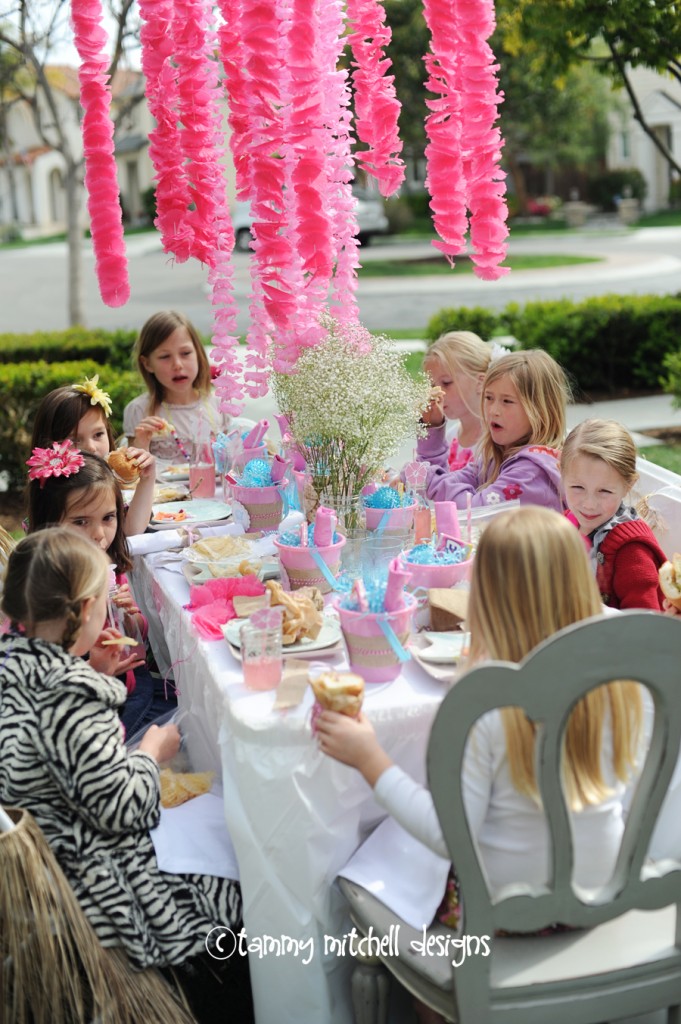 Ok, are you bored with the details yet?? 😉 For the food table I made a backdrop out of foam core and pink wrapping paper. The aloha banner was made of coffee filters, doilies, cupcake liners, and handmade glittered letters. I cut a long piece of ribbon and used mini clothespins to attach the banner to it.
I found blue distressed wood pieces to hold the food and treats and used a ruffled burlap runner on top to mimic sand. I added a few pieces of coral and some blue tin pails and we were all set. I have to say the the highlight of the decor was the "sand castle" I made. Check it out…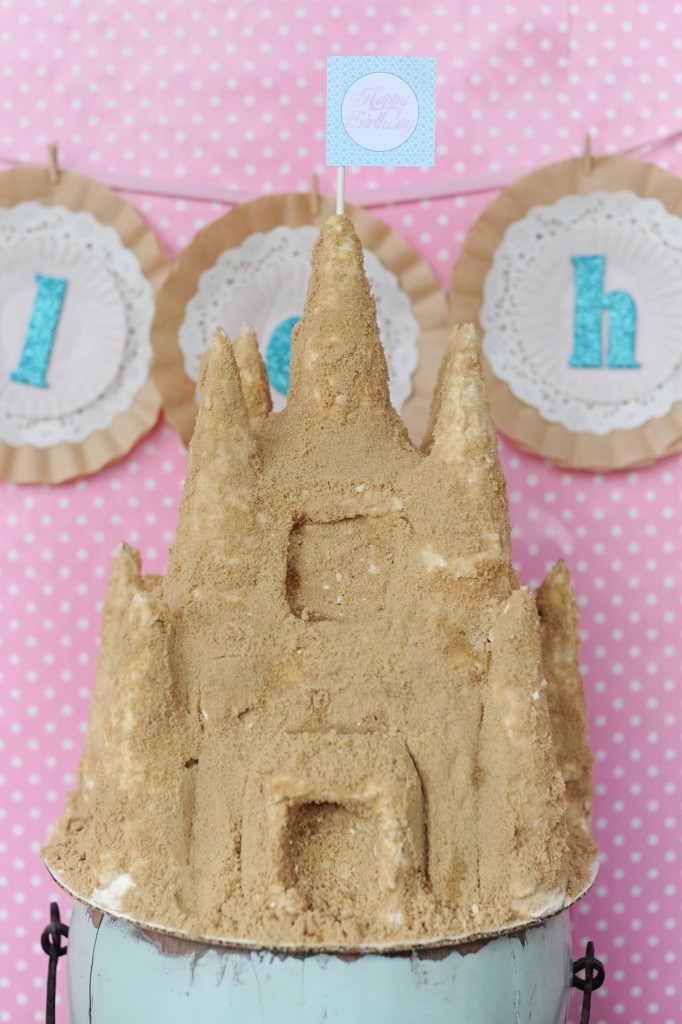 More details on how to create your own sand castle coming later this week!!
Here are some of the resources you might need if you want to create this decor yourself:
leis, mini buckets : www.partycity.com
grass skirts: www.luauexpress.com
white linen tablecloths, pink and white beach balls : www.amazon.com
chipboard letters, doilies and glitter: Hobby Lobby
Coffee filters, cupcake liners: Albertsons
Distressed Blue Containers, shells, coral, pink plates: Tai Pan Trading
Blue shell and starfish plates, white napkins: www.homegoods.com
Printables: Pink Peppermint Prints
I hope that helps!
email me with any questions…I'm happy to help!
tammy