This is a little party I threw for my Eloise crazed daughter a bit ago.  Looking back at the pictures reminded me of what a crazy week we had at our house that week with pipes busting, contractors, plumbers etc running through the house, pouring rain all week, and trying to put the finishing touched on the party. I think that it turned out pretty well though and the girls had a blast.
Everything at this party was inspired by the beloved Eloise series of books. The pink, black and white color scheme, the games, the decor…you name it, it was ALL about Eloise.
When Ashley and I first started brainstorming about what she wanted to do for her birthday she kept mentioning Eloise. Since John and I had visited the Plaza Hotel last year and brought her stuff home from the Eloise store, she has been in love with the spunky, precocious little girl. I started searching the internet and realized that there wasn't a whole lot out there with this party theme so I was going ot have to get extra creative! 🙂 I love a challenge. 🙂 I designed some invitations using an image I found on the internet of the books cover. I tweaked it to fit the party and we were off and running! 🙂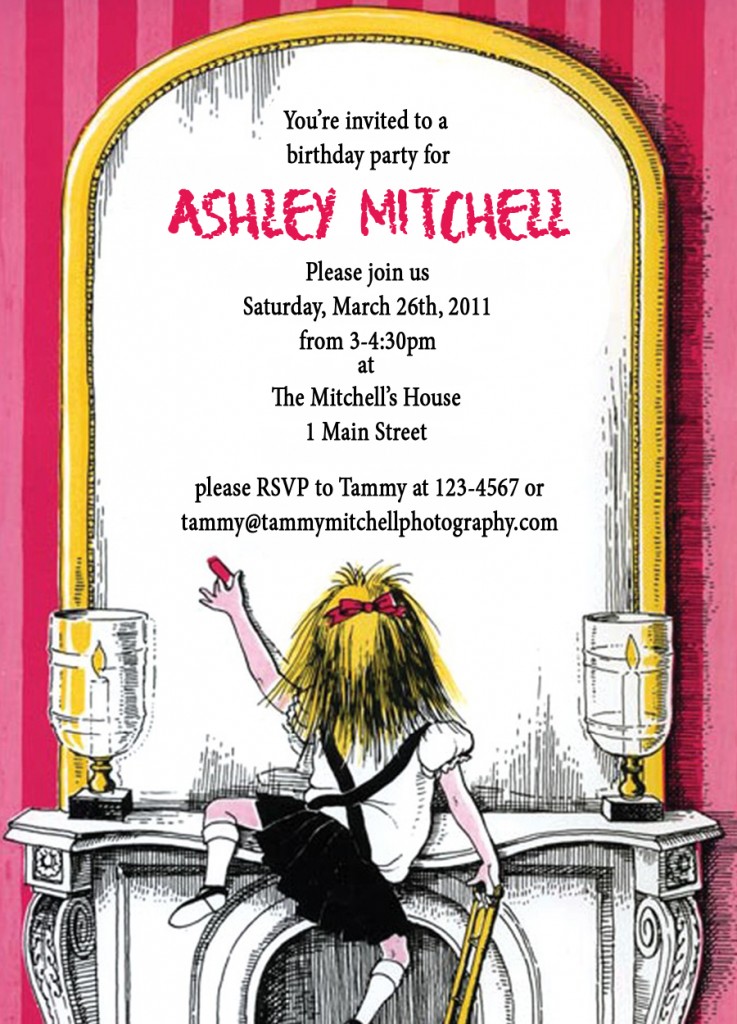 Once the invitations were done I immediately started focusing on decorations and food. I raided the Target $1 bins where I found adorable pink glittered boxes, pink pearl necklaces, and hillarious pink and white polka dot flower shaped sunglasses. Target always comes through! 🙂 Eloise loves to dress up and these $1 bin items got the creative juices flowing! My ideas for party printables started forming and I was envisioning a table full of frilly pink and black dress ups, polka dots and a cute little girls eating pink and black treats.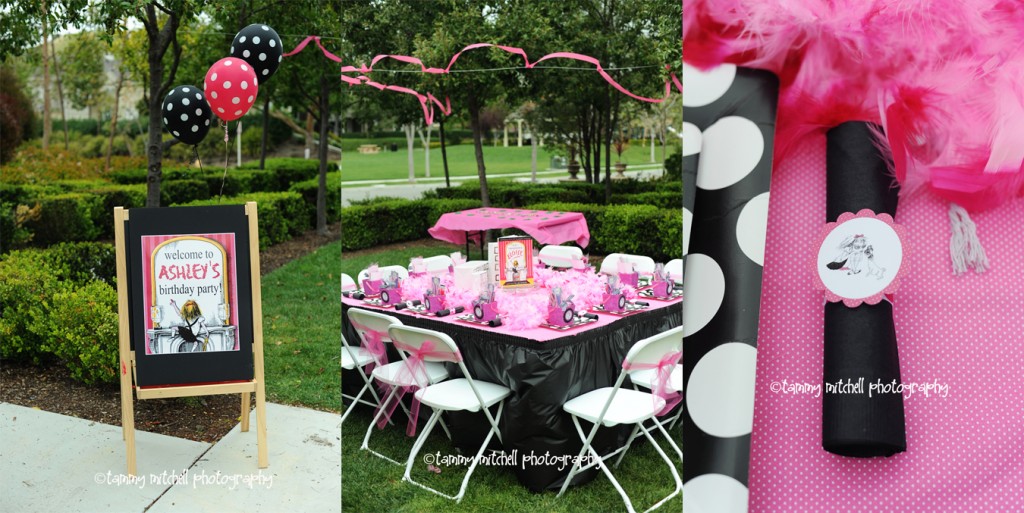 I created printables to use for the favors, napkin holders, food table, etc. I also used the invitation I had created to come up with the welcoms sign. The tables were 2 6′ tables that we own pushed together to form a square. I like to find more than one use for things, so instead of disposable tablecloths I used pink fabric with white polka dots so that after the party I could use it to sew up something fun! 🙂 The black and white polka dot place settings were from Party City. I ordered the feather boas for $1 each from HaloHeaven which is an AMAZING place to find fun, inexpensive stuff for parties.
I wanted the space to have some sort of canopy, or something fun hanging from the ceiling. Kind of hard to do in an open space! 🙂 So, I found heavy gage wire at the hardware store and strung it in a zigzag pattern from tree to tree across the park. Then, I hung bright pink crepe paper in a scallop pattern from it. It's kind of hard to tell in the pictures because it was very windy, but it looked even more fun when it was hanging straight. 🙂 I found the polka dot balloons on Amazon.com.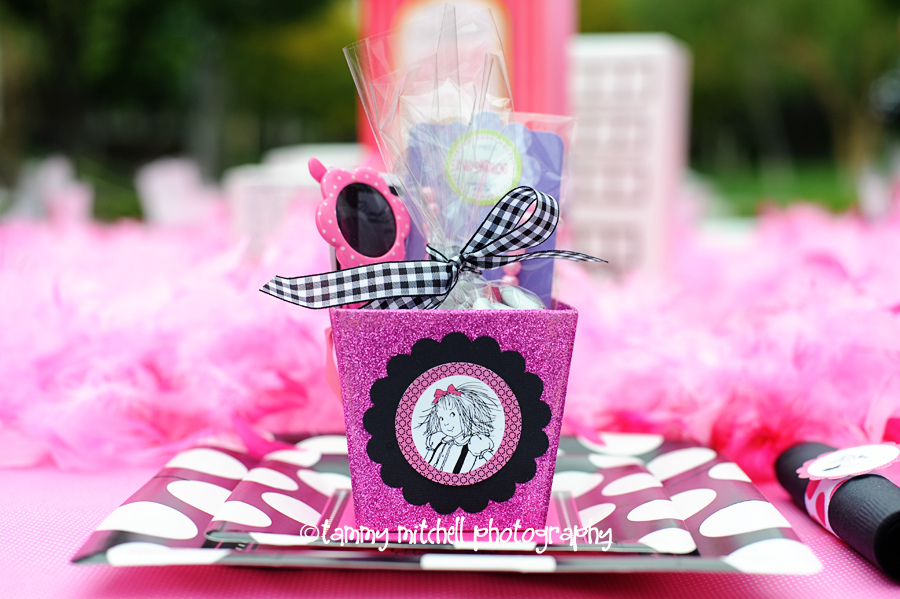 The favor boxes included the pink necklaces and sunglasses, a pink hair flower from my etsy shop, and a clear bag of good and plenty candy wrapped with a black and white gingham ribbon. The feather boas were all over the table for the girls to put on too.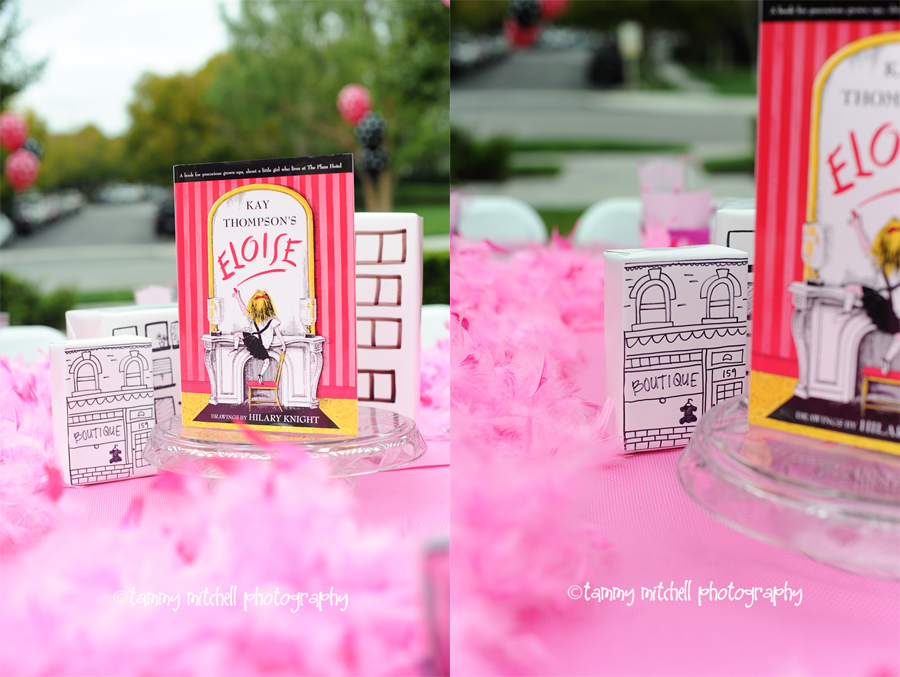 Eloise is a city girl that lives at the Plaza Hotel in New York, so for the table centerpiece to go along with the book I wrapped some different sized boxes in white wrapping paper and drew city scenes on them to give it a cityscape look.
The FOOD! It is amazingly tough to come up with pink and black food for little girls! 🙂 The food table consisted of ham and cheese tea sandwiches that I individually wrapped in celophane bags tied with ribbon, pink cotton candy, pink and black ladybug sugar cookies, pink jello, pink lemonade, watermelon and blackberry kabobs, pink strawberry marshmellow treats, tiny pink crown sugar cookies, pink heart shaped rice krispy treat pops, pink rock candy and of course…the cake.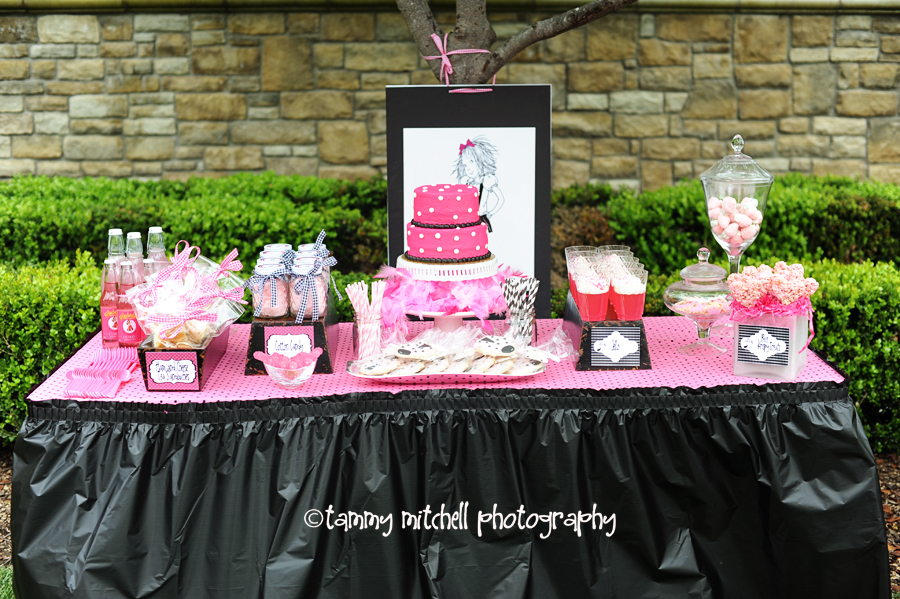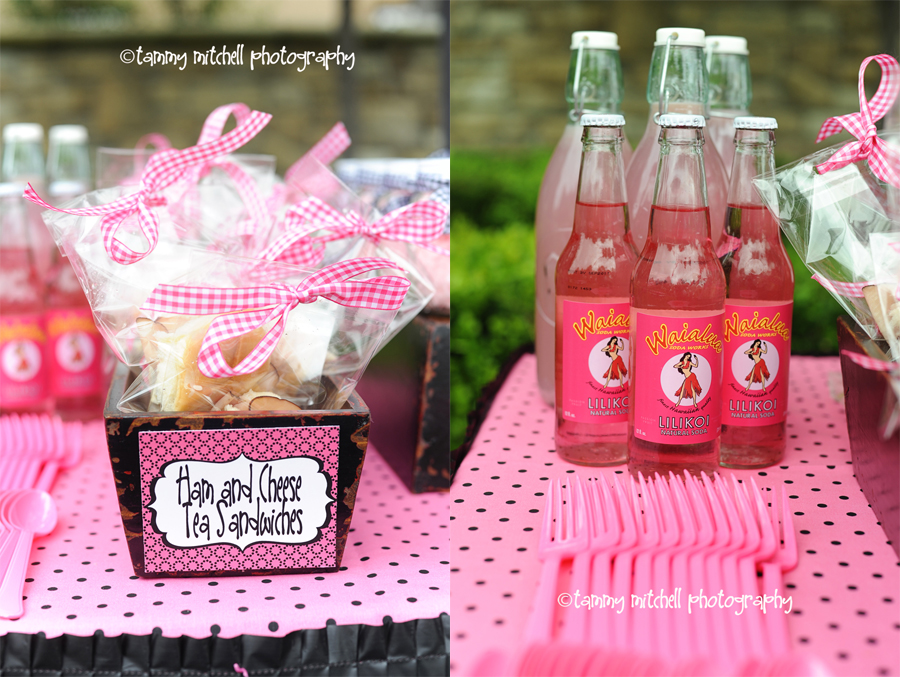 Much to my surprise, with all the flavors and colors of jello available, they don't make one that's bright pink! (believe me, I looked and tried making several different varieties!!) So, I was left with the option of making my own jello. Sounds crazy I know, but it was actually surprisingly easy. All you need is some clear gelatin,(find these next to the jello at your local grocery store) food coloring, and juice of your choice to flavor it. I used raspberry lemonade. You can find the instructions on the gleatin packets.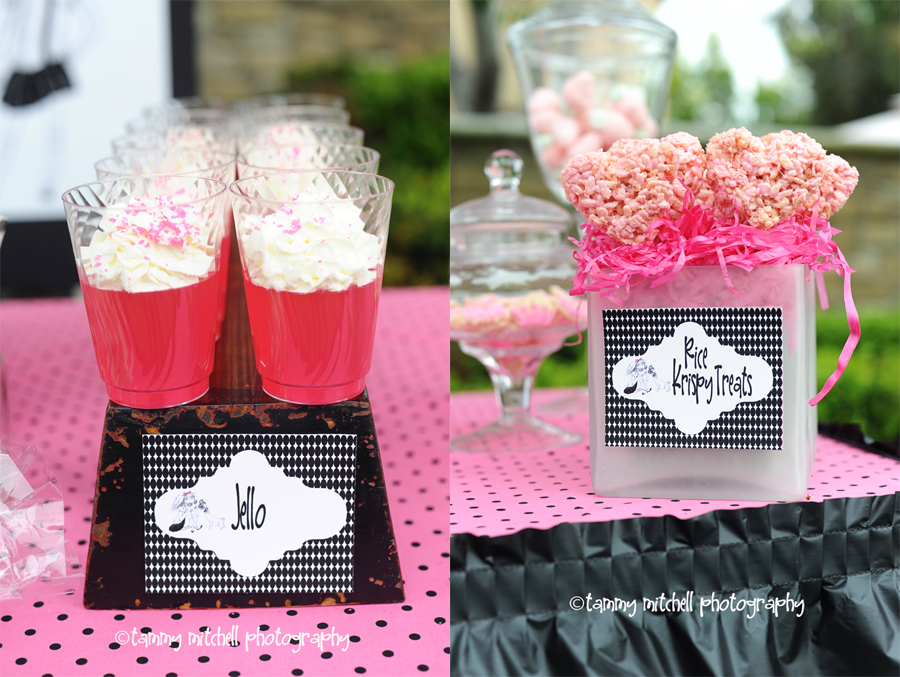 Rock candy can be EXPENSIVE, and since I'm a bargain shopper I kept my eyes peeled all over the place. I finally found some at my favorite store…homegoods. It was a pack of 10 for $3.99…pretty good considering that at the party store they are $1.79 a piece!! So here's a hint…whenever I'm planning a party, I ALWAYS check the food and beverage section at homegoods for fun foods and sodas. They are usually really unique and fun and WAY less expensive!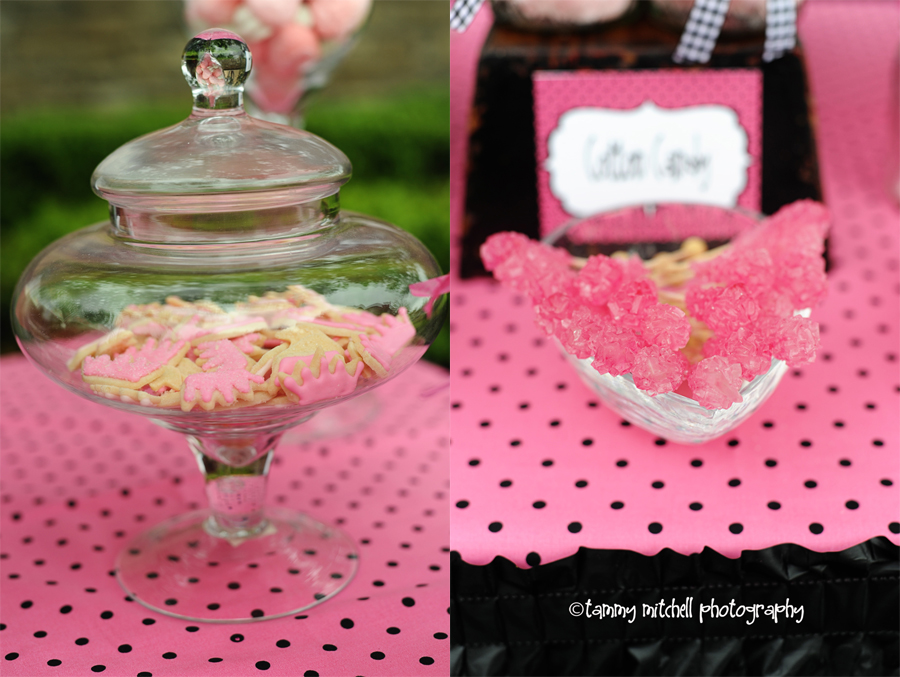 I wanted cotton candy, but I didn't want it in it's ugly plastic container…so I came up with an alternative. 🙂 I simply bought a box of canning jars (available at walmart) they come with the lids and rings. I filled the jars with cotton candy and put a party printable on the lid, closed em up and tied them with ribbon. Much more fun I think! 🙂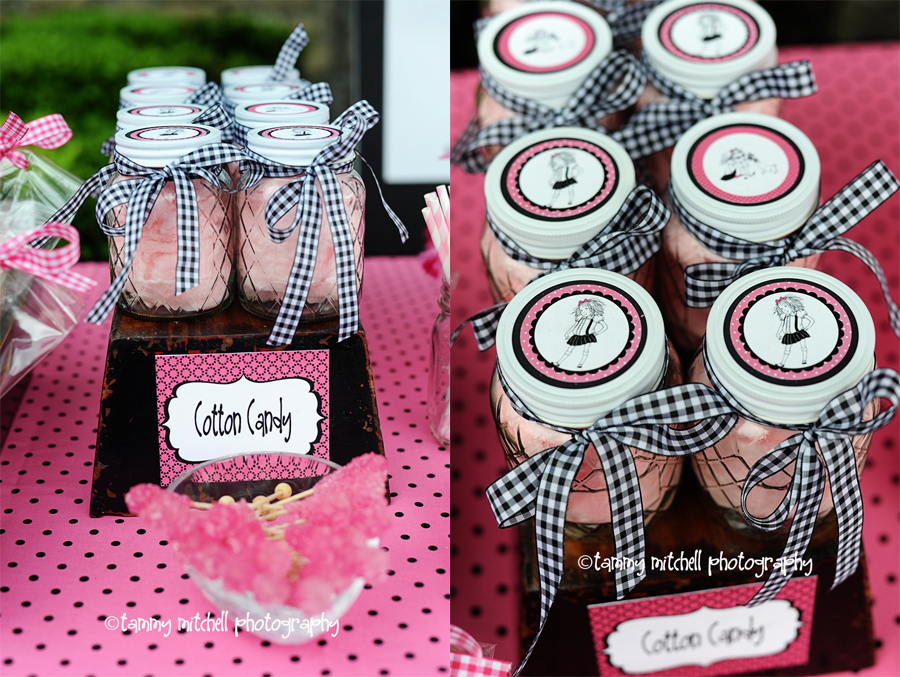 The cookies…oh the cookies. They were absolutely delicious! I worked with Sugar and Flour on etsy and can I just tell you it was a wonderful experience. They were perfectly wrapped and not one was broken when they arrived. I HIGHLY recommend them and their amazing cookies. They were like little works of art.
The cake was a simple design that I came up with and asked my local albertsons to create it for me. They were great to work with and the best part?? It fed 30 and only cost $27.99!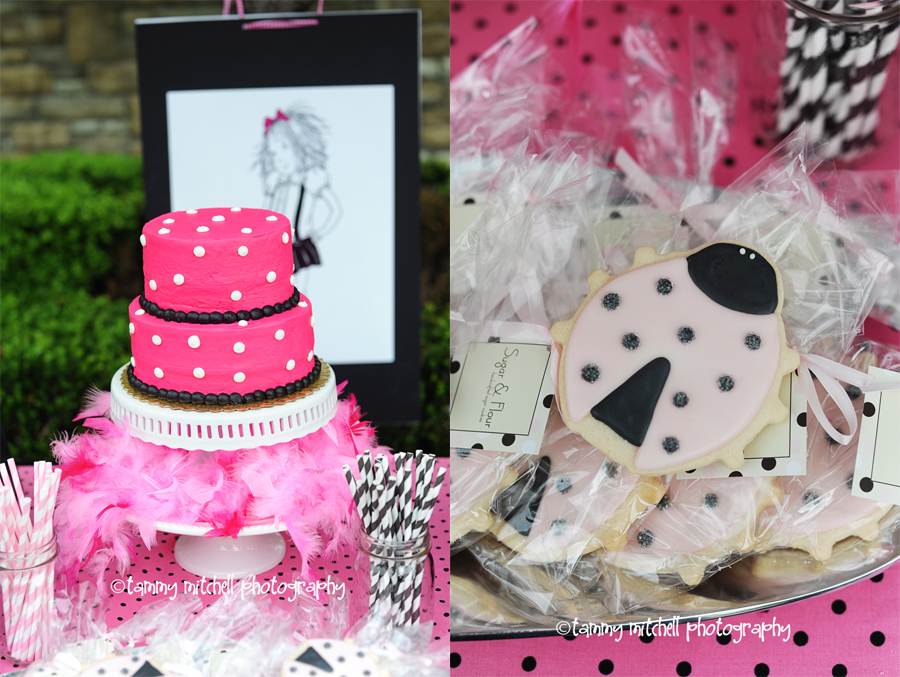 I ordered other fun black and white doo dads from Hey YoYo on etsy…the straws, nut cups, and pink and black and black and white zebra striped cupcake liners. Another great shop and great service!
For entertainment we started out by creating our very own pet turtles just like Eloise's Skiperdee…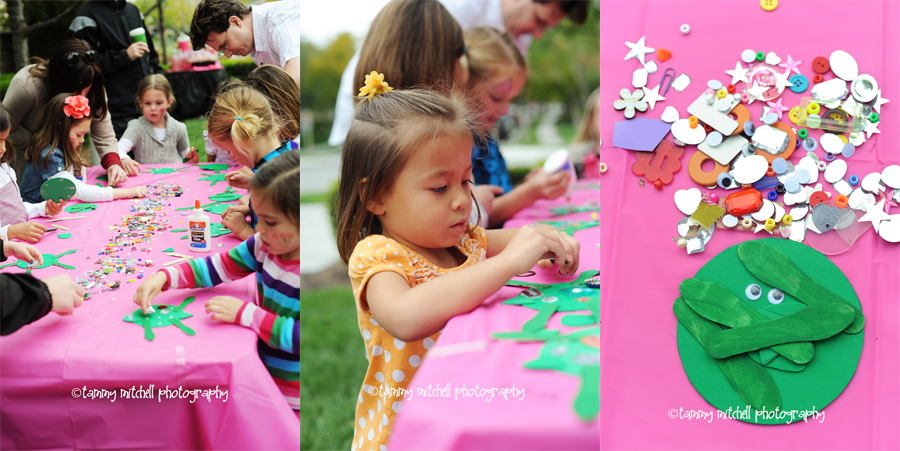 I used green fun foam that I cut into a circle and head and tail shape for each child, 4 small wooden spoons that I painted green for legs, google eyes, and an assortment of buttons and rhinestones from oriental trading co for them to decorate their turtle's shell.
Then we moved on to pin the bow on Weenie's tail…Eloise's silly dog. I drew the simple dog from a picture I had in the book…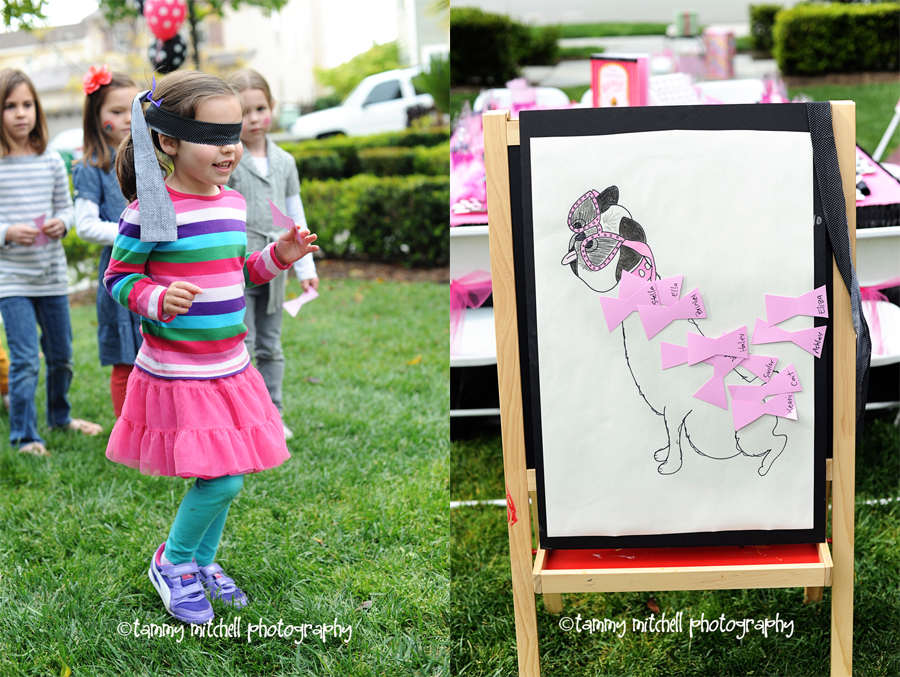 After the games and activities we headed to the table for our tea party and treats. The girls were delighted to dress up in all their goodies…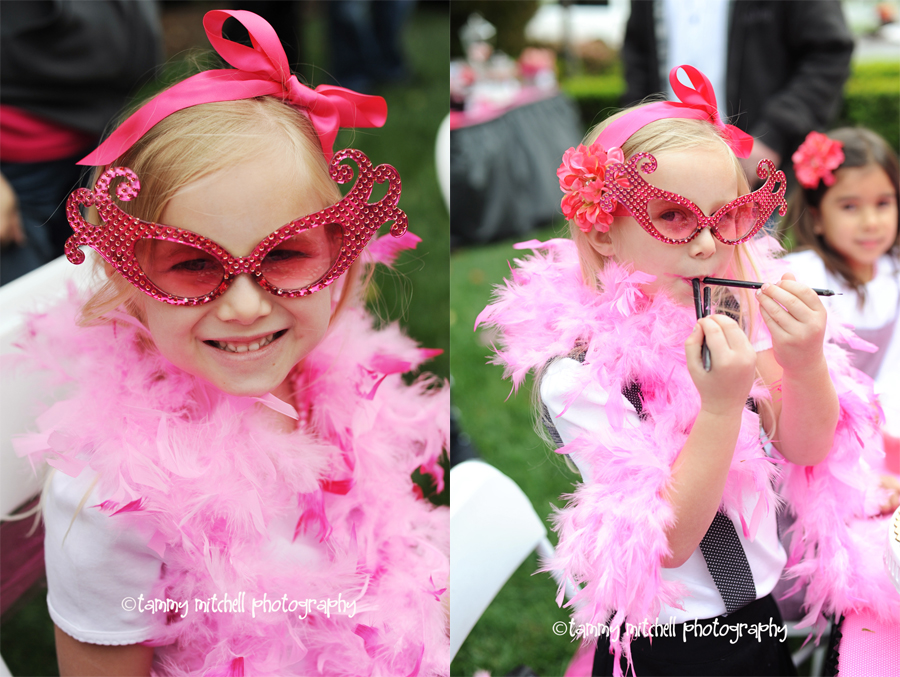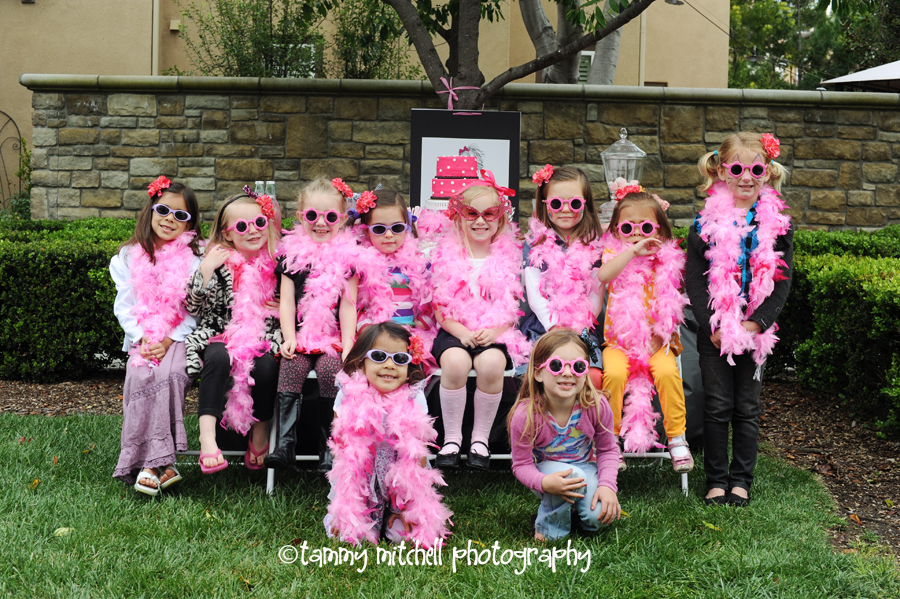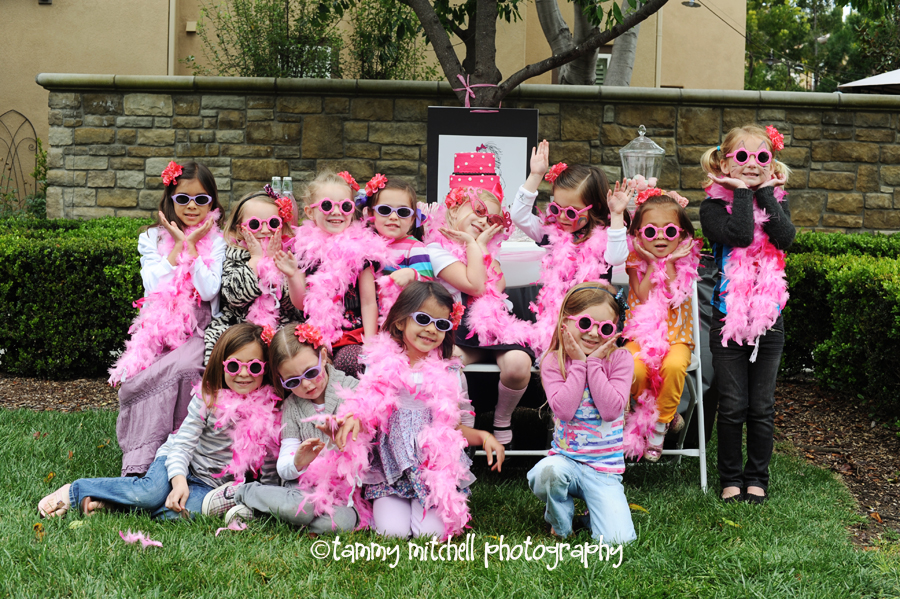 It was hillarious!  I hope you love these Eloise Party Ideas.  Are you ready to host your own Eloise party now?? 🙂 Good news!! I have the printables all ready for you so you can create your own party too!! They are in the shop for you! 🙂
Have a great day!
tammy