I know, I know…Thanksgiving dessert recipes are all about pumpkin pie, but dare I say that in our house we all prefer apple pie? Specifically Dutch Apple Pie. When I was growing up my mom had a church recipe book, kind of like an early blog, where all the ladies at church submitted their best and favorite recipes and then they gathered a bunch together and printed and bound them so everyone could have a copy. This Dutch Apple pie recipe is from that little orange laminated three-ring cookbook. I wish I knew who to credit for the original recipe, I only know that it's now been passed down a few more times and it is our family favorite. I make this dutch apple pie recipe three times a year…at Thanksgiving, Christmas and for the 4th of July. It's always a hit!
When it comes to Thanksgiving recipes, I love to find any way I can simplify, prep, make ahead etc. It's always such a busy week with so many things to make, it can feel overwhelming!
I love this dutch apple pie recipe because I can prep the apples two days before and then bake the pies a day ahead of everything else. It works really well. Here's my tip for cutting the apples ahead of time and keeping them from turning really brown.
Slice your apples and once they are sliced, keep them in a bowl of ice water. Once they are all sliced and ready, transfer the sliced apples and ice water into gallon sized ziploc bags. Fill each bag about 1/2 full and then put them in the fridge until you are ready to use them. As soon as you're ready to use them just drain them and pat dry.
The recipe calls for coating the apples in flour, and sometimes I add a little bit of cornstarch. These apples lose a lot of juice, so the cornstarch and flour help thicken the juice they lose into a sweet syrup.
They start looking pretty irresistible once they are coated in all that cinnamon and sugar.
I use pre-made pie shells. I know. But I have not perfected pie crust yet…actually I don't even like pie crust which is probably why I haven't taken the time to try and master it. 😉 They make life a lot easier when there are a million other recipes to make on Thanksgiving!
Fill those pie shells high with delicious apples and then dot with some butter. Delish!
Now it's time for the crumb topping. Remember how I said I don't like pie crust? Well, dutch streusel topping to the rescue. This amazing crumbly topping pairs so well with the tart granny smith apples.
This pie is piled HIGH, but once the apples bake down it will shrink quite a bit.
I like to bake mine on a baking sheet covered in tin foil so that any messes or spill over in the oven land on the foil, rather than inside the oven. It's WAY easier to clean up!
Let that topping get nice and golden brown, but be sure to watch it so if it's getting too dark you can cover it up with some more foil so that it doesn't burn.
Look at those irresistible layers of tart cinnamon sugar covered apples and sweet crumb topping. Guys, this is SO good!! Warm it up and top it with some ice cream and it will be your new favorite too.
Are you ready to make this Dutch Apple Pie recipe yourself? Here you go!
Yield: 8 slices
Dutch Apple Pie
Ingredients
For the Pie:
Pie Shell
6 Tart Apples (peeled and cut into 8ths)
2 TBS Flour
2/3 Cup Granulated Sugar
1 Tsp. Cinnamon
2 TBS. Butter
Crumb Topping
1/2 Cup Butter
1/2 C Brown Sugar
1 Cup Sifted Flour
Instructions
Line pie pan with a pie shell. Coat apples in 2 TBS flour. (add a little cornstarch if you'd like) Mix sugar and cinnamon and pour 1/2 over apples and toss them. Arrange apples in the pie pan and pour remaining cinnamon sugar mixture over them. Dot top of the pie with butter and cover with crumb topping.
For the Topping: Cream butter and sugar. Cut in the flour. Mixture will be crumbly.
Bake Pie at 450 for 10 minutes
Reduce heat and continue baking at 350 for 30 minutes.
There can't be a Thanksgiving in our house without Homemade Orange Rolls. Be sure to check out this family favorite recipe here.
And stuffing? Don't miss this delicious recipe.
Looking for more delicious recipes? You can find even more in our recipe library.
Thanks for visiting the blog! Come and join me on social to follow along with all of my Design, Travel, DIY, Shopping Deals and other posts. You can find me here:
Instagram | Pinterest | Facebook | Like to Know It
Happy cooking!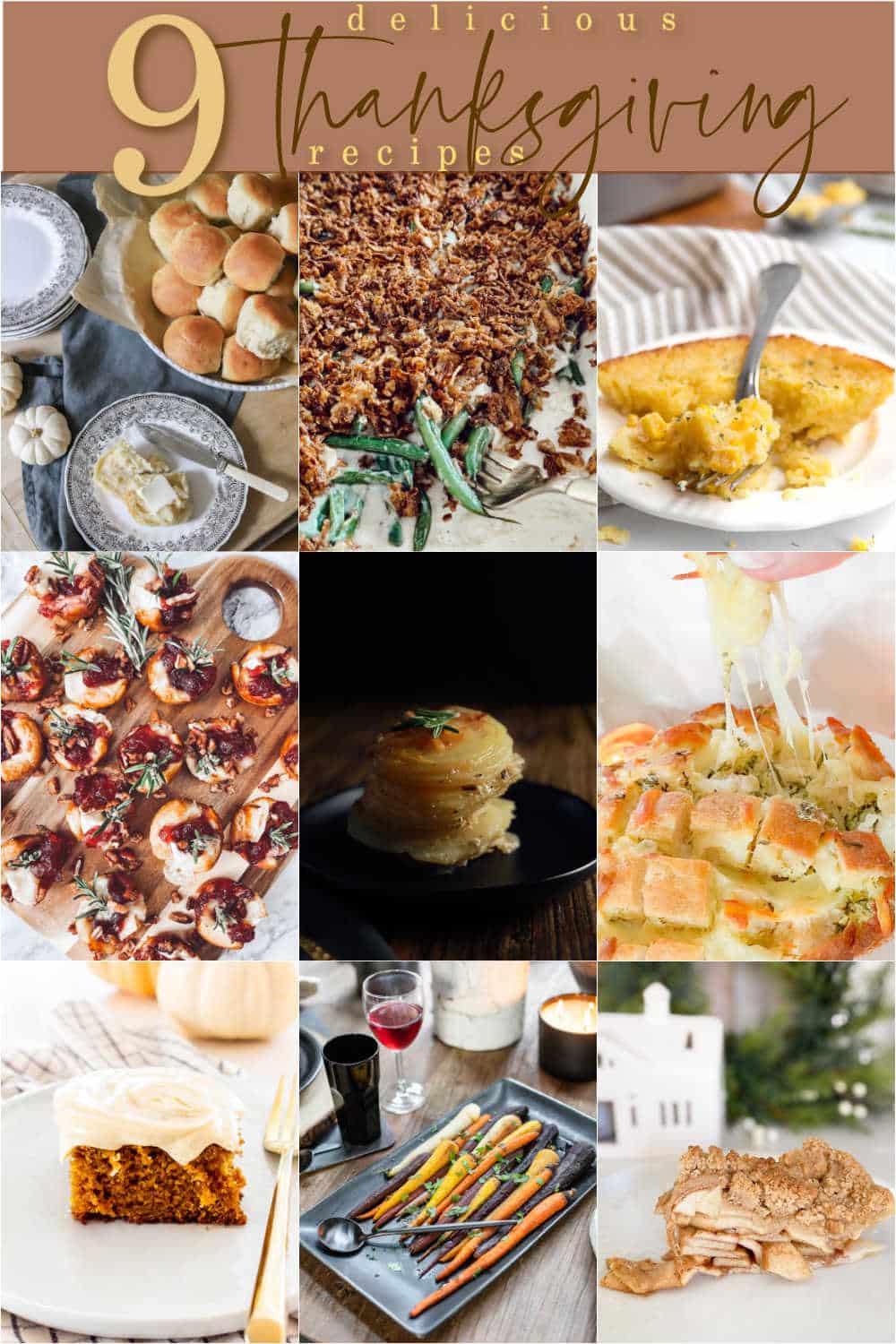 The Best Dinner Rolls | Rooms For Rent
Eleanor Rose Home | Not Your Mom's Campbells Green Bean Casserole Recipe
Midwest Life and Style | The Best Thanksgiving Side: Easy 5-Ingredient Baked Corn Pudding
This is Our Bliss | Cranberry Baked Brie Bites
Paint Me Pink | Cheesy Herb Potato Gratin
Tatertots and Jello | Cheesy Spinach Artichoke Bread
Inspiration for Moms | Pumpkin Dream Cake
My Sweet Savannah | Savory Roasted Carrots
Pink Peppermint Design | The Best Dutch Apple Pie Recipe
Tammy