It's hard for me to believe it, but it's been almost two years since we painted our house.  We were making the transition from brown to gray, since it had been 10 years and I wanted a fresh new look.  I never realized how tricky gray can be! The granite in our kitchen has a lot of brown in it and just wasn't working with the cooler colors…believe me…I tried just about everything. We lived in what became known as the camouflage house for almost a year while I tested out gray after gray after gray. 😉 I have a tendency to paint very LARGE swatches all over my walls in every room so that I can get used to it in all different rooms/lights. I don't know why I have such trouble picking my own paint. Whenever I pick paint for clients it's never an issue…but at my own house…that's a different story! 😉
I finally found one I love! It's called Ashland Montpelier Grey. The problem I ran into is that the house faces East/West so the front of the house is very dark all the time, and the back of the house is very sunny. The regular color looked too washed out against the wainscoting for my liking…so I had it darkened. Did you know you can do that? It is the coolest! When you find a color you love, you can darken or lighten it up to your liking.  In this image you can see the regular Ashland Grey on the right and the 100% darkened version on the left.  You can tell the decor has changed a bit since then too. 😉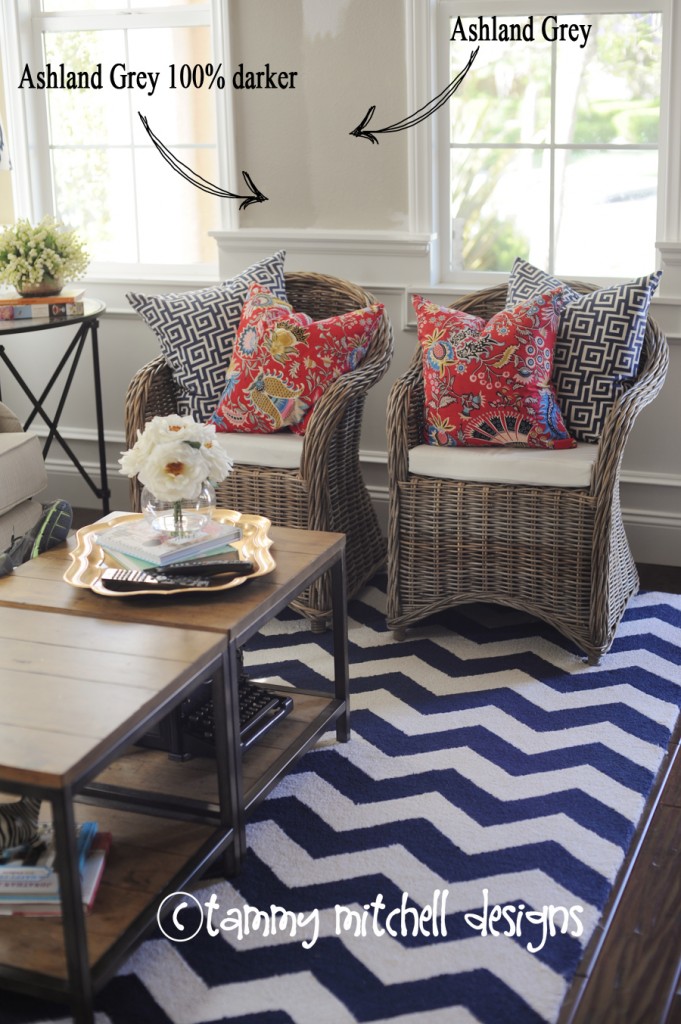 It's not a huge difference, but in the house it made a big difference.  I painted the front room in the lighter color (so it doesn't feel like a cave) and the family room in the darker shade so it doesn't look washed out. Because of the lighting situation, they look like the same color…isn't that cool?  Don't be afraid to ask for specialty things like lightening and darkening paint colors at the paint counter.  Did you know that you can also bring in your favorite blanket, pillow, etc. and have them match and create that custom color for you for free?  Our kitchen island is a custom color that I made from a pillow I found at HomeGoods and I love it!
Good luck and happy painting.
Have a great day!
tammy